There are many reasons people chose to build an airplane. Sometimes, it's the challenge of the project, or an attempt to reduce the cost of flying. Other times it's to build a dream machine to handle what would otherwise be a less-than-enjoyable commute. Greg Marlow from Kingsport, Tenn., falls into the last category. He is the proud builder/pilot/owner of an RV-9A.
According to Marlow, the decision to build the RV came out of the need for a plane he could use to commute to his Air Force Reserve unit in Charleston, S.C., where he flies the C-17.
"I was looking for a fuel-efficient cross-country machine," he said. "And after some thought I decided to build a Van's."
Marlow's electric blue RV was one of several hundred that migrated to Oshkosh this summer in celebration of Richard VanGrunsven's famous design.
Although this wasn't the first trip to Oshkosh for the Marlow RV, it was certainly the most poignant.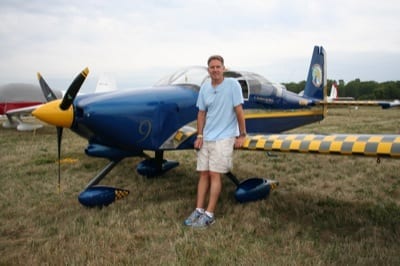 "There are so many beautiful airplanes here!" he said, gesturing to a sea of low-wing planes with the distinctive, Mustang-inspired vertical tail. "That just shows you how popular the airplane is."
According to Marlow, the Van's reputation for excellent customer support and the plethora of technical knowledge available to builders helped him make his decision.
"I was impressed by the number of builder websites out there," Marlow recalled. "I could access them when I had a question, in addition to calling the factory tech help. I think I maybe called the factory all of two times, because there was so much information out there from the other builders."
In addition to answering builder questions, social media and builder's blogs helped Marlow streamline the construction process.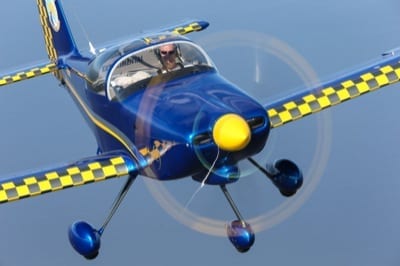 "I'd go online and follow another builder's progress," he said. "Often times that builder was a month or two ahead of me, and reading his experiences told me what to expect."
Marlow's airplane was designed to be an efficient cross country machine and that's what he got.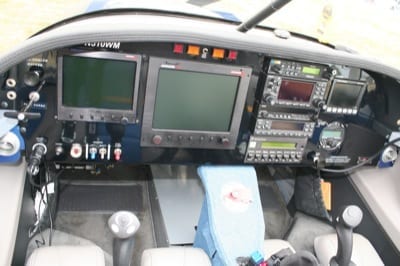 "It has a Barrett IO-320, 160-hp Lycoming with a three-bladed prop. It's very smooth. I do a lot of turbine flying, and smooth is important to me," he said. "Navigation is done by a Garmin 430 and a panel mount unit for a paperless cockpit. I can fly IFR, but if it's not VFR, why go fly?"
The interior sports leather Oregon Aero seats. "I could have gone with cloth but since you have to step on the seats to get into the airplane, I figure leather is more durable," he said.
Choosing the plane's color scheme was the biggest challenge, he said, noting that he was thinking about the paint scheme from the very beginning.
"I had all sorts of color schemes in my head during the 3.5 years of building," he mused. "And I asked my kids — I have four — to come up with ideas. None of their designs made the final cut though."
Eventually, Marlow decided he wanted a checkerboard pattern.
"A guy at my airport, Mark Fenley, does painting and I asked him about it. He was real excited because he had never done a checkerboard pattern before," he said.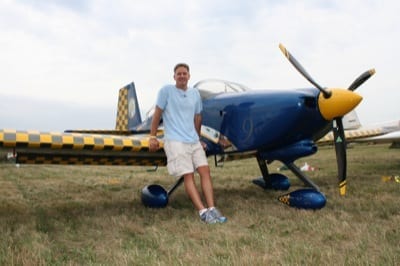 The Marlow RV is blue with yellow checks and an accent stripe of polished metal that was done in homage to the A&P tech counselor who helped him with the project.
"He really liked my riveting, and told me that I should leave the plane unpainted to show it off. I thought it would be too much work, so I left that stripe of unpainted metal for him."
For extra visibility even in the daytime, Marlow added large LED landing lights.
The tail of the airplane sports the logo of Marlow's Air Force Reserve Unit.
"During the construction of the airplane, we were activated to Afghanistan and Iraq," he said. "We would do 14- and sometimes 18-day trips. We'd fly out of Germany and that's where I would do my research. When we came home I would have 10 days off, and that's when I would work on my airplane. I felt it appropriate to put the logo of my Air Force Reserve squadron on the tail since they helped me pay for the airplane," he chuckled.
The tail number, N510WM, is in honor of Marlow's father.
"It is his birthday and his initials. He helped me build the airplane, but he died about a year before I finished it," he said.
To date, the Marlow RV has about 305 hours on it.
"It's my get-around airplane," Marlow said, patting the cowl, adding that sometimes he takes one of his children with him on a trip.
"We've gone to Atlanta to see the Braves play and to New York to see the Giants play," he said. "One of my sons joined me on a trip out to San Diego not too long ago."
Marlow adds that he's been flying 25 years or so and has more than 10,000 hours now, so he's stopped counting them, unless, of course, he's in his RV.
"This is a go-places airplane!" he said.