By RaeAnn Slaybaugh
A retired military and TWA pilot trades in the big jets for his own vintage Chinese training aircraft — and rediscovers a 41-year-old passion for deceptively challenging formation flying.
If you've ever attended the annual COPPERSTATE Fly-In & Aviation Expo, held every October at the municipal airport in Casa Grande, Ariz., the sight of pilot Derwin "Dee" Grimm in his green 1969 Nanchang CJ-6 training aircraft, with its red-and-yellow Chinese markings, is a familiar sight on Saturday afternoon.
On those days, Grimm is joined by as many as 17 other warbird-aircraft pilots for a multi-point fly-over. For aviation enthusiasts, it's incredible to see all those CJ-6s, T-34s, T-38s, T-6s, Yak-52s and more flying in formation — but this spectacle isn't nearly as effortless as it appears.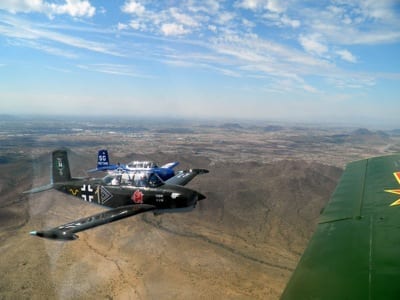 As Grimm explains, pilots are trained to stay away from other aircraft. By its nature, formation flying flies in the face of that training.
For career-pilot Grimm, formation flying was something he didn't revisit until nearing retirement.
He began his professional aviation career serving six years as an active pilot and officer in the United States Air Force, where he flew piston-powered KC-97 tankers in the Strategic Air Command. That proved to be excellent training for the career that followed as a long-time pilot for Trans World Airlines — TWA. In that role, Grimm was able to check out as DC-9 captain after only four years.
Over the course of his 33-year TWA career, Grimm held varied positions within the organization — training instructor, flight manager and line crew member among them — flying both domestic and international operations on many different types of aircraft.
"The TWA years were good, but I knew from the beginning that at age 60 I would have to retire," Grimm recalls. "As I finally would cease flying big jets, I knew I'd like to have a higher-performing aircraft to fly."
At the time, Grimm had spent years restoring an Aeronca 65CA rag-wing aircraft, under the supervision of two certified mechanics, to accumulate the required experience and knowledge to be eligible for the A&P license testing. After completing the restoration and license testing, Grimm taught his eldest son — in his mid-30s at the time — to fly the Aeronca. He ultimately completed his private pilot certificate.
But, it was time for Grimm to move on to something more exciting.
After discovering the CJ-6 at a local air show, he went home and told his wife he'd found "something he really needed." Her response: "Well, you'd better go get it." Grimm immediately sold the Aeronca, as well as his Porsche 911, to start the process of buying the CJ-6. In all, it took about 14 months: Seven to buy the aircraft, and another seven for the CJ-6 to be delivered from China.
As Grimm explains, the Chinese military uses CJ-6s for flight training for no more than 4,000 hours — a hard and fast line. At the 4,000-hour point in its life span, each CJ-6 is parked, without exception. "If the [Chinese] student pilot is on a cross-country flight, then he has to return to base on the bus or other transportation," Grimm explains.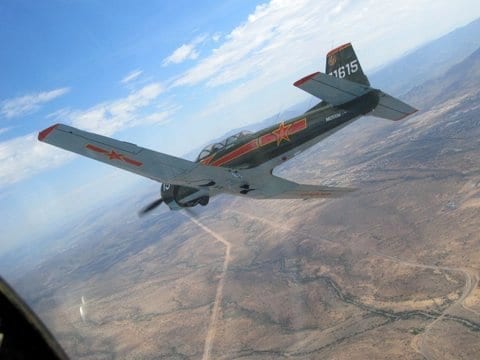 The aircraft arrived in Arizona with its wings, nose gear and "tail feathers" removed so it could be shipped with another CJ-6 in a single container. "Even then, they were still too wide to sit on their sides within the container," Grimm notes. "So, the container had to have a top berth on the ship."
From there, the CJ-6 required a complete inspection and substantial maintenance prior to FAA certification as an experimental exhibition aircraft. Among the required alterations: An altimeter in feet rather than meters, a transponder, altitude encoder and radios.
"Most of these aircraft receive much more than the minimum repairs," Grimm points out, citing new paint, tires, a more powerful engine and propeller. For his part, he also modified the aircraft with a Russian Vedeneyev engine and a Whirlwind three-blade prop. In the end, the restoration took 19 months.
With his ideal aircraft finally in hand, Grimm aimed his sights on formation flying — a definite departure for the career pilot. He hadn't flown parade formation since his USAF pilot training days in the T-33 41 years before.
Even so, it didn't take long before Grimm joined up with other pilots (of CJ-6s and other types) who were also interested in formation flying. "I discovered a very social, competent group of pilots in this community," he recalls. "I quickly recovered my formation skills by flying with them."
As Grimm explains, formation is the most challenging and difficult type of flying for many pilots. This is mainly because it requires wingmen to give up control of their aircraft to the flight leader. Additionally, the interval between aircraft during a formation flight is typically between 5 and 10 feet — a difficult position to maintain when contending with desert-sky turbulence. "If the wingman looks away while attempting to maintain this close interval, it can be downright dangerous," he warns.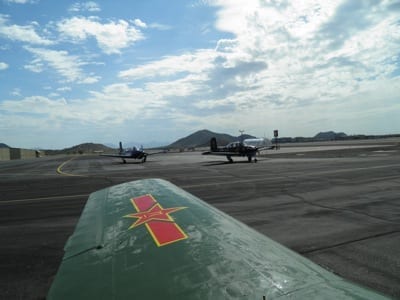 For this reason, the skills pertaining to formation flying must be fastidiously maintained. As Grimm explains, this level of performance requires regular and frequent formation training flights, during which pilots who are new to the formation community are trained on the skills needed, as well as subjected to an FAA-required check ride. This check ride enables these pilots to fly in FAA-waivered airspace — space usually granted for airshows by the FAA.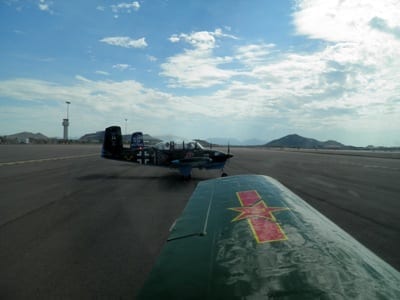 "Normally, [the FAA] permits aircraft to exceed 250 knots below 10,000 feet, and to do aerobatics below 1,500 feet above ground," Grimm explains. "Formation flight, at other times, is permitted under FAR 91.111 (b)."
On a recent three-ship formation outing over the north Phoenix desert near Lake Pleasant, the flight leader was Grimm in his CJ-6. Before taking to the air, a briefing session covered every aspect of the flight.
In the briefing session, formation assignments (#1, #2 and #3) were covered. Next, Grimm issued call signs — "Rat 15" for him, "Rat 2" and "Rat 3" for the wingmen. He covered primary and backup radio frequencies, hard deck requirements, fuel dispersion, and potential emergency landing spaces — 7th Street and the 303 freeway (with a reminder to land with the flow of traffic).
After taxiing in formation, the three aircraft took off in formation. During and after takeoff, the two wingmen — each in a T-34 — kept a constant focus on Grimm's glass cockpit, always looking for the hand signals, arm movements and number signs that would dictate their next moves.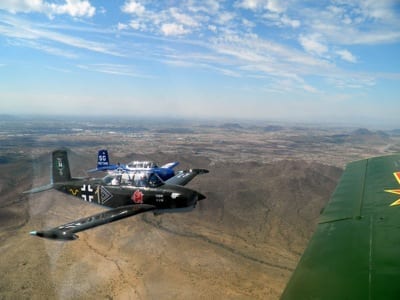 For the next 30 minutes, soaring over the Arizona desert, both aircraft were manipulated through the sky like chess pieces. In one maneuver, they were lined up single-file behind the lead aircraft. In another, they were flung wide and then regrouped, ultimately positioning themselves within that 5- to 10-foot interval. These are called "rejoins."
A particularly challenging maneuver required one aircraft to pass underneath the other, essentially switching places. In the debriefing session, that pilot — a seasoned flight veteran by all accounts — admitted the move is still nail-bitingly daunting.
If done right, the end result "looks easy, like anyone can do it," Grimm says. At this year's COPPERSTATE fly-in, however, he encourages attendees to keep the realities of formation flying in mind as they watch the 16-point "diamond" of aircraft pass by.
"While they're watching [all those aircraft] fly over, they can rest assured that there are at least 16 pilots sweating bullets up there," he says.
This year's fly-in is scheduled for Thursday, Oct. 25, to Saturday, Oct. 27 at the Casa Grande Municipal Airport in Casa Grande, Ariz. For more information: Copperstate.org