KALAMAZOO, Mich. — The Air Zoo has added a new plane—a 1928 Curtiss Robin—to its collection of aircraft.
The Curtiss Robin is a high-wing monoplane built by the Curtiss-Robertson Airplane Manufacturing Co. It is one of the first airplanes to feature an enclosed cabin and was primarily used as a mail plane, passenger carrier, and air ambulance in the late 1920s and early 1930s.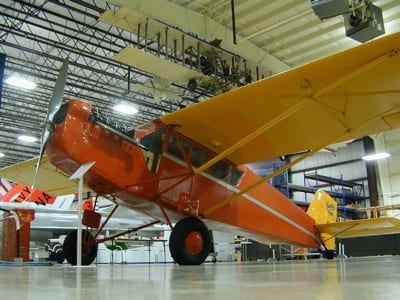 "The Curtiss Robin is a wonderful addition to the Air Zoo's collection of aircraft, as it is from the early aviation era," said Bob Ellis, Air Zoo president and CEO.
The Robin is on loan from Leon Andrews, 80, of Memphis, Tenn. It was built in St. Louis and was originally used by an air service in the Sacramento, Calif., area. It is currently on display in the Air Zoo's East Campus.
The Air Zoo is a nonprofit museum/aviation attraction located at 6151 Portage Rd. in Portage, Mich. It is an affiliate of the Smithsonian Institution and offers a restaurant, gift shop and banquet facilities. General admission is $8 per person. Unlimited rides and attractions may be purchased with a wristband package (Ultimate Ace-$15, Junior Flyer-$12, Co-Pilot-$8), which includes general admission, or tickets can be purchased individually for rides. Children who are 4 years old or younger are free.
For more information: AirZoo.org or 269-382-6555.