A solo flight series showcasing one young man's efforts to learn to fly three different kinds of aircraft was successfully accomplished over the weekend, beginning with a night three ship formation flight launched at midnight Oct. 14.
The day began early for Drew Gryder of Hampton, Georgia, as he sat strapped in his single engine Cessna 150 aircraft positioned on the center line of a 3,700-foot runway at midnight.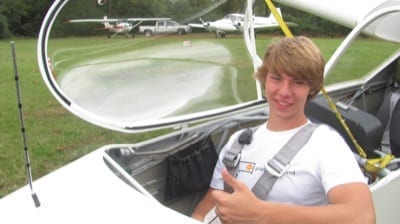 Federal aviation regulations specify that an individual be 16 years of age to fly as the sole occupant of an aircraft – that threshold occurring at 12:01 a.m. by Drew's calculations. Positioned within a few feet behind him to his left and right on the same runway were two more Cessnas. Together, the three Cessnas simultaneously lifted off as planned for the unusual night element formation takeoff at the instant he became legal to do so. Flying off Drew's left and right wings were his father, Dan Gryder, and local friend Scotty Collins.
After a good night's sleep, Drew used the daylight and perfect weather remaining the next day to fly solo as the pilot in command of a Blanik K-7 glider, as well as a Piper twin engine aircraft. The planning for this special event was begun more than two years ago, and significant effort was made to ensure safety through rigorous training prior to the execution, according to the family.
"I would love to be able to fly as a career pilot someday, but I also wanted to show other kids that age 14 and 15 is not too young to start, and that they can also fly," Drew said. "To other kids my age, I would say to stay in school, get good grades, and work hard on whatever career they are interested in. Aviation is a rewarding career, the pilot shortage is here, and it just might as well be us that will fill those cockpit seats. We can do this!"