"It's funny how things evolve. If you've ever noticed, change is seldom abrupt. Instead, it comes like spring, in small, barely perceptible stages, until one day you look around and realize your world is green again. That's the way it was with Boonie.
One day, Charles Watson Darnell, known about town simply as Boonie, was just a passenger, someone who liked to fly. Before too long, he was my friend. This is not so unusual except that maybe 30 years stand between us. Now, he is so much more.
Boonie has been a life-long member of the Front Porch Gang, longer than there has actually been a porch. His friends flew. His nephew flew. And although he never learned to fly himself, Boonie loves to ride, and he'll buy the gas for anyone who will fly him. Our flights together started not long after I got my license. At first it was short hops around the patch, then it was longer trips to places we had never been before.
Our trips are seldom planned. Upon hearing a pilot radio at an airport in a neighboring state, I might ask, "Ever been there, Boonie?"
"Can't say that I have." "Wanna go?" "Why not?"
With map in hand and the thrill of discovery coursing through our veins, we head out toward the new Promised Land."
I wrote those passages for a Short Final column many years ago. Even then, it was hard to explain or describe the quirky relationship that I shared with Boonie Darnell.
That first flight on Oct. 30, 1997, in my 1962 Cessna 172C led to another and another until it was commonplace to find us gone on those really pretty days. It seemed like we were exploring the universe, but we were also exploring the potential for a friendship that would become a deep and profound one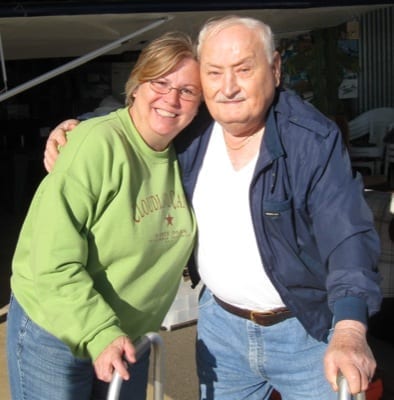 Boonie and I adventured well together — most of the time. He was charming, especially to the women. He was a gentleman with a strong sense of duty, but he could also be extremely opinionated, headstrong and stubborn. He left the piloting to me, because I believe he loved having a younger female flying him around the skies. Loyal to the bone, in his eyes I could do no wrong, except maybe use a little more make-up and do a little something extra to my hair. I was forgiven for those little flaws. He did understand that headsets played havoc with hairdos.
Boonie was a retired rural postal carrier. He was hired as a youth and retired at age 55 with a lifetime of service. In a rural county like Pickens, that means he knew everybody and nearly everything that was going on. So, not only was Boonie my flying buddy, he was also my gossip buddy. If there were something he felt I should know, my phone would ring by 8 a.m. with him on the line with the latest juicy tidbit. Boonie still kept mail carrier hours and had little patience for those who did otherwise.
Boonie liked my cooking. To be honest, he liked a lot of women's cooking since his other hobby was eating. He was such a charmer with his compliments that he was often rewarded with offers of pies, cookies and cakes. I sent him jellies, homemade vegetable soup made from my garden surplus, and my prized pickled okra. We shared a love of pickled okra. However, it was this shared love and his trait of often being too bluntly honest that once cost him a flight or two when he declared that Mrs. So and So's pickled okra was better than mine.
He redeemed himself. Eventually.
Boonie was not available for adventures of the aviation kind or any kind on Wednesday mornings. Those mornings were saved for Senior Bingo at the local grocery store. Prizes were awarded and included the day-old bread and cakes from the bakery and day-old flowers from the store's florist department. Consequently, there would be flowers displayed on the table in our hangar on Wednesday afternoon. More often as not, there would be a cake there as well.
Boonie was not available most Sunday afternoons during NASCAR season, although I have enticed him for a flight during those times with the warning that there will never be a more perfect flying day. It was always an agonizing decision for him. Perhaps, it was my passive aggressive way of getting back at him for the okra faux pas.
Boonie loved the C-172 and considered it the perfect traveling machine. Not so big that it would break the bank topping it off and not so small to be uncomfortable, mine carried us many miles, to many destinations and for many enjoyable hours while forging a lasting friendship along the way. He didn't love it enough to learn to fly it. Oh, he did hold the yoke for me a time or two. He flew on occasion when I lied and said I was tired, but my attempts to make a pilot out of the passenger went for naught.
He even outsmarted me when I slyly purchased him an hour's instruction as a Christmas gift. He refused to sit in the left seat and informed the young flight instructor to make his hour of sightseeing a good one.
I was not high on Boonie's list of beloved ones when I bought Lester, my Luscombe 8E. The moment he saw that airplane, he knew my ownership of 80Yankee, the C-172, would soon come to an end. At first, he refused to speak to me, and I understood that he feared his aging body would have difficulty getting in and out of the taildragger. Eventually, I was able to coax him into Lester and the airplane soon won him over. He was especially appreciative of the airplane's attributes after our first stop at the fuel pump. After a couple of hundred hours, he felt right at home.
As years passed and Boonie began to feel and show his age, Henry and I felt there was a need to acknowledge Boonie's love of all things aviation. He had experienced many of the benchmarks of a private pilot and had many hundreds of hours of flight time as a private pilot passenger. He was an active member of the Front Porch Gang and was generous when the airport needed support.
One Saturday, after a flight to a local airport deli, Henry and I, before witnesses, grabbed Boonie's shirttail and cut that puppy off in honor of his 1,000th hour of flight time as a private pilot passenger. We marked the shirttail appropriately for the occasion, had it framed and returned it to Boonie, where he promptly displayed it in a place of honor on his mantle beside his autographed photo of President George W. Bush.
Sadly, that happy occasion seemed to mark the decline of Boonie's health. He suffered a light stroke, then was diagnosed with prostrate cancer that moved into his bones. Illness didn't stop his desire to fly. One Friday evening, when the skies were clear and the air was smooth, Henry and our friend Mike physically lifted Boonie into Lester for what I knew would be his last flight with me.
Bittersweet? There is no one word that can begin to describe the myriad of emotions one experiences during such a flight. I was so thankful to be able to share that with him and was incredibly sad that I had to.
My other husband was 81 years old when he took his final flight. No flight plan was filed.
Visual meteorological conditions prevailed and the flight was conducted under Isaiah 40:31. "They shall mount up with wings as eagles; they shall run, and not be weary, and they shall walk and not faint."
I was honored when his family asked if I had any request as to his funeral arrangements. I had one and sadness left my heart when I heard the congregation sing, "Some glad morning, when this life is o're, I'll fly away…"
Boonie would have liked that.
Deb McFarland is the proud owner of Lester, a 1948 Luscombe 8E, and part of the "Front Porch Gang" at Pickens County Airport in Georgia. Deb can be reached at ShortFinal@generalaviationnews.com.