BOISE, Idaho – Western Aircraft recently built and donated a cockpit simulator to be used as a learning tool in Idaho State University's (ISU) College of Technology.
Western Aircraft has a history of supporting ISU's Aircraft Maintenance Program financially as well as hiring Airframe and Powerplant (A&P) technician graduates from the program, company officials noted.
"We are committed to growing the aviation industry in Idaho," said Western Aircraft Avionics Manager John Schnefke. "We feel the practical experience gained through the training cockpit will give ISU students an edge in the marketplace while competing for a job and make them more prepared and productive after they start."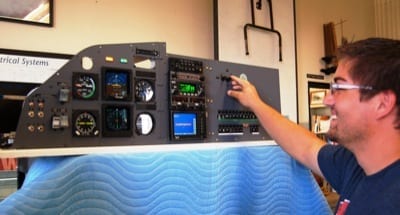 "It's an amazing piece of equipment," said ISU Aircraft Maintenance Program Coordinator and Airframe Instructor Gary Shipley. "I can now provide entry-level training to a whole classroom at once versus just one student at a time. And because the backside of the cockpit is open, the students have the rare opportunity to see all the wiring which you never get to see in an actual aircraft."
Shipley added that with the fully functional cockpit they can also introduce faults. Students will learn how to troubleshoot the faults and repair the discrepancies, giving them a practical sense of what it is like to actually work on avionics equipment installed on an aircraft.
The cockpit, which is valued at approximately $83,000, was built by 10 employees and took about 650 hours of engineering to design and construct, company officials said.
For more information: WesternAircraft.com