Engine Components International (ECI) of San Antonio, Texas, and Ameritech Industries, the parent company of Eagle Engines and American Propeller Service of Redding, Calif., have entered into a dealer sales agreement for the California company to sell the TITAN EXP experimental series factory assembled new engines.
The TITAN EXP series include the OX-320, IO-320, OX-340 Stroker, IO-340 Stroker, OX-360, IO-360, OX-370 Stroker, IO-370 Stroker and the IOX409.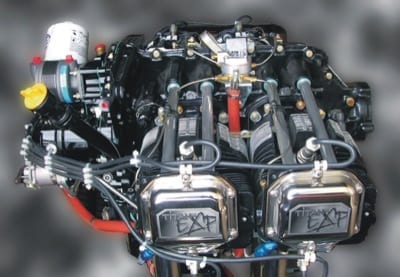 The ECi TITAN EXP series comes in a variety of horsepower ranges, including: 320 series from 154hp – 169hp, 340 Stroker series from 180hp – 185hp, 360 series from 175hp – 191hp, 370 Stroker series from 192hp – 205hp and the 409, which develops 230hp.
Engines are available in Dynafocal #1 and Conical mounting configurations and the prop governor adapter is included on constant speed models, company officials said. An updraft cast sump is standard on most models with an option for cold air induction available. Angled oil filter adapter and oil filter are provided.
Accessories packages available include: fuel pump, carburetor or fuel injection system, magnetos, ignition harness, spark plugs and lightweight starter. Additional options are available that include electronic ignitions and high compression pistons (limited to select models).
With this new arrangement, Ameritech can now offer the experiment aircraft builder a choice of factory built engines by Superior (XP Series) or ECi (TITAN EXP Series). Ameritech also offers its XTREEM engine series for the experimental builder looking for a more custom, high performance engine, company officials said.
For more information: 800-292-7767 or Ameritech-Aviation.com