I've been to many airshows – enough to pass on most theses days. But this October in Daytona Beach, Florida, a remarkable beachfront airshow pulled me in. Here, you can literally drive all the way into the show, park right on the show line and watch from your car on the beach.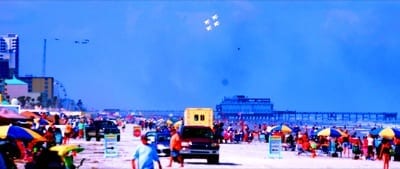 There are waterfront airshows each season in places like Chicago, Ft. Lauderdale, and just recently down I-95 in Cocoa Beach near Kennedy Space Center. Waterfront shows are great. They offer beautiful settings, performers safely over water and a long, linear crowd line with clear views. Here in Daytona, the performers' stage is two miles of beach. But here it's hard sand, drivable beach that gets you right to the show line. You can park on the beach (away from show center, that is), not in remote lots battling 150,000-200,000 locals for parking space and show access.
Beach driving here generates controversy that varies with environmental sensibilities or car/sunbather accidents. Recently, two fatalities triggered another debate. But as before, local officials just adopt another list of safety rules. This time: one-way traffic, more no-driving zones, lights-on and windows-down rules, a no-cruising requirement and smaller, more open Beach Patrol vehicles.
It's unlikely that beach driving will go away soon. It's part of the history and culture of the place. And that's great for Daytona Beach's biennial Wings and Waves Show presented by Embry Riddle Aeronautical University and others. (A point of local pride:  12 of the show's performers were ERAU grads.)
Prop-driven aerobatics included Mike Goulian, IAC-winner Matt Chapman and Corky Fornof. Formation acts included the Black Diamond Jet Team and GEICO Skytypers. The military brought in an air refueling demo and an F-18 for solo aerobatics. Most appropriate in this boating capital was the Coast Guard's helicopter water rescue demo. Then came the Canadian Snowbirds and USAF Thunderbirds.
I got a real kick capturing all this with the Nikon, up close from atop my Jeep. Among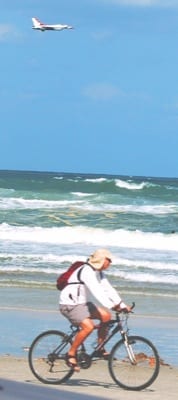 memorable scenes: On old couple in beach chairs seemingly oblivious to the approach of F-16s and a passing beach cyclist appearing to race a solo Thunderbird as it sped by.
This waterfront show was one heck of a day: Sun, sand, great flying and the fun of watching up close from your car. I wish we could get this kind of show geometry in an airport-based airshow. Regardless, I'd recommend any waterfront show, sure, but suggest you try Daytona's "Wings and Waves" when it comes back in two years.
Bring a Jeep.
Drew Steketee was president of BE A PILOT, senior vp-communications for AOPA and executive director of the Partnership for Improved Air Travel. He also headed PR and media relations for Beech, GAMA and the Airport Operators Council International.
© Story and Photos 2012 Drew Steketee All Rights Reserved