LAKELAND, Florida — Flight school Tailwheels, Etc. was recently recognized by two of the nation's flight organizations. The Flight School Association of North America (FSANA) named Tailwheels, Etc. as being one of the first three "stand alone" accredited flight schools in the country. At this year's Aircraft Owners and Pilots Association (AOPA) Aviation Summit, Tailwheels, Etc. was recognized as one of the top flight schools in the nation. Among the Flight Training Excellence Awards, Tailwheels, Etc. was awarded the President's Choice Award.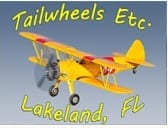 The accelerated flight training approach initiated by Tailwheels, Etc. has served as a blueprint for other flight training programs, according to company officials. The school has set in motion curriculums addressing instrument ratings within two weeks, with a ratio of 95% completion, using both glass cockpit and steam gauges.
Tailwheels, Etc. also offers condensed Commercial Test Prep in its complex single-engine aircraft, as well as a multi-engine training course that is designed to be accomplished in minimal time whether as an add-on to a Private Pilot Certificate, advancing to the Commercial Pilot Level, or for a pilot seeking MEI Instructor Rating.