Mid-Continent Instruments and Avionics has introduced a 2- x 5-inch standby display. The MD302 Standby Attitude Module (SAM) is a self-contained, solid-state instrument that provides attitude, altitude, airspeed and slip information to the pilot during normal operation or in the case of primary instrument failure, company officials said.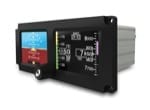 SAM is a compact device specifically designed to fit in less panel space than a standard set of 2-inch mechanical attitude, altitude and airspeed indicators. Its two-screen display features selectable horizontal and vertical orientation. This allows for flexible cockpit installation without extensive rearrangement of equipment or the need for re-certification of relocated avionics, company officials said. Weighing 1.6 pounds, SAM is lighter than just one of the three instruments it is designed to replace, officials add.
"SAM is a unique and simple-to-use product that is an impressive addition to today's high-tech glass cockpits," said Tom Genovese, Mid-Continent Instruments and Avionics Director of Sales. "It can be configured to provide either horizontal or vertical readouts and easily fits into an existing panel layout. SAM's two-screen display is extremely easy for pilots to read, even at a glance. It provides a separate screen for aircraft attitude, with airspeed and altitude on another."
The MD302 Standby Attitude Module is designed to interface seamlessly with most primary avionics systems and is capable of synchronizing data, such as barometric pressures from standard ARINC outputs. Designed, certified and manufactured in Wichita, Kan., list price is $10,600 and includes a 2-year limited warranty.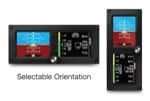 SAM is pending Technical Standard Order (TSO) certification to C2d, C3e, C4c, C10b, C106 and C179a, including RTCA DO-178B and DO-254 Design Assurance Level A. TSO certification is expected fall 2012. Mid-Continent Instruments and Avionics is working to receive Approved Model List (AML) Supplemental Type Certificate (STC) for FAR Part 23 aircraft that includes more than 500 different models. Aircraft-specific Part 25, Part 27 and Part 29 STC certifications to follow.
For more information: 316-630-0101 or FlySAM.com