The National Association of Flight Instructors (NAFI) has proposed to the Federal Aviation Administration Safety Team (FAASTeam) a new effort to work together to promote flight instructor proficiency in a NAFI/FAA Safety Team Standardized Instructor Proficiency Recognition program.
"This proposal represents a non-regulatory, industry best-practices approach to enhancing proficiency in the flight instructor community. NAFI developed this proposal as an effort to help promote proficiency in active flight instructors through currency in both in-flight activity and for up-to-date ground knowledge," NAFI's Executive Director Jason Blair said.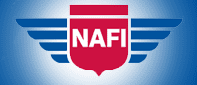 Certified Flight Instructors (CFIs) are now able to keep their certificates current via a variety of methods that do not require both flight and ground knowledge proficiency to be demonstrated. This proposal by NAFI represents an effort to encourage combining both a flight and ground knowledge proficiency demonstration jointly for an instructor to qualify, according to officials.
"NAFI's intent is not to require an additional hurdle for instructors to keep their certificate active, rather to allow active instructors to have a method to demonstrate their dedication to excellence and proficiency that goes beyond the minimum requirements," said Blair. "I personally believe it is important for instructors to not only be proficient in their ground knowledge or their flight skills independently, but to actively remain proficient in both areas. To provide proper instruction to customers, both areas must be strong," he said.
"We hope the industry embraces this approach and finds value in added proficiency demonstration for instructors," said NAFI Board Member Robert Meder. "This is also a great opportunity for NAFI to work closely with the FAASTeam in promotion of the Wings program and for instructors to set themselves apart with their customers."
The proposed program has been presented to the FAASTeam, which is evaluating it and considering how best it can be implemented and administered through the FAASTeam Wings program, NAFI officials said. During this process, NAFI welcomes any feedback on the proposal, which can be viewed here.
The National Association of Flight Instructors' members work at flight schools, universities, FBOs, corporate flight departments, in the military, and as independent instructors. NAFI was founded in 1967 and its members, who now teach in 17 countries, are dedicated to raising and maintaining the professionalism of flight instruction.
For more information: NAFINet.org or 866-806-6156.