Now available is the 5th edition of The Flight Instructor's Manual, edited by William C. Kershner, based on the original text by his father, William K. Kershner.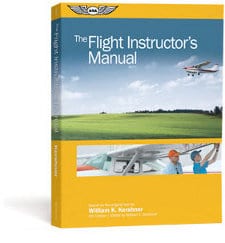 This revised Fifth Edition is organized so that each chapter serves as a stand-alone reference for a particular phase of instruction, allowing each to be used as "how to instruct" guides on topics such as fundamentals of flight instruction (FOI), presolo instruction, first solo to the private certificate, advanced VFR instruction, introduction to aerobatic instruction, and instrument instruction. The book also features a comprehensive spin syllabus, material on multi-engine airplanes, instructing international students, teaching ground school, and setting up tests.
William C. Kershner was soloed by his father and holds Flight Instructor and Airline Transport Pilot certificates. He has flown 22 types of airplanes in his over 10,000 hours of flight time, ranging from Cessna 150s to Boeing 777s.
The softcover book is 560 pages. It is also available as an eBook.
Price: $29.95
For more information: ASA2Fly.com