UniWest has introduced its US-454A Eddy Current Instrument, which offers single- and multi-frequency Eddy Current (EC) inspection, signal-to-noise ratio, frequency mixing capabilities, USB and Ethernet data storage capability, and digital strip chart data collection.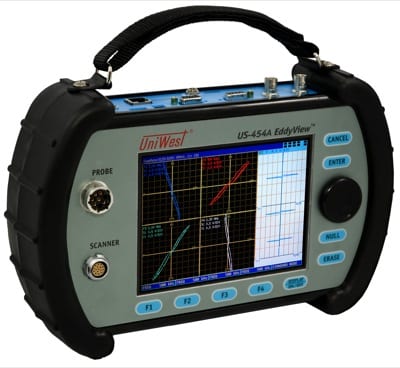 The 454A's primary advantage is its ability to be integrated into an automated system, according to company officials. Control of the US-454A with either the USB or Ethernet as well as the dual encoder position input makes it an ideal instrument for systems, officials say. The field-proven features of the direct access keys, control knob and large, bright colored display makes it a user-friendly instrument for the entry-level NDT technician to operate.
The 454A is a lightweight, hand-held, battery-operated instrument that can be connected to a laptop, PC, and motion controllers for use in semi- or fully automated data collection applications, such as surface inspection of aircraft fuselages or measurement of critical engine wear using a 32-element probe.
For more information: UniWest.com or call Bryan Leach at 509-544-0720.