For the first time ever, the Online News Bureau of NBAA's Annual Meeting & Convention includes a photo gallery featuring every aircraft displayed at the show, which this year was held from Oct. 30 to Nov. 1 in Orlando, Fla.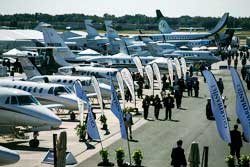 The 2012 static displays featured some of the world's leading business aircraft. Light business airplanes and helicopters were showcased both inside and outside the Orange County Convention Center, while nearly 100 additional business aircraft were on exhibit at Orlando Executive Airport.
People interested in browsing the images can view them by make/model or exhibitor. Aircraft shown range from the AgustaWestland AW139 to the Pilatus PC-12. In addition, the galleries include notable historic aircraft that were on display at NBAA2012, such as the Beechcraft Staggerwing and Boeing Stearman.
Two other historic aircraft – the North American P-51 Mustang and T-6 Texan – were on display as part of NBAA's tribute to the Tuskegee Airmen.
Check it out here.