Jeppesen now offers its complete suite of pilot training textbooks as e-book selections for iPad. Available for download through the Apple iBookstore, Jeppesen's e-book titles include Instrument/Commercial pilot training, Multi-Engine airplane training, and Flight Instructor training from Jeppesen's Guided Flight Discovery series, and Federal Aviation Regulations/Aeronautical Information Manual (FAR/AIM) and FAR/M regulation reference guides.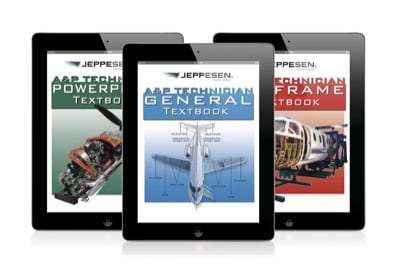 Student pilots are now able to complete their entire ground study process, spanning Private Pilot through Flight Instructor training using Jeppesen e-books titles, company officials note. The new Jeppesen titles build on Jeppesen's established e-book training series that includes the Private Pilot Guided Flight Discovery manual and the A&P Technician General, Airframe and Powerplant training materials.
Student pilots are now able to access the same training information as printed materials, with enhanced capabilities such as on-screen search, highlighting, hyper-linking, bookmarking, note taking and font size adjustment features, company officials note.
"Having the complete collection of Jeppesen pilot training textbook and reference titles available on iPad as e-books eliminates cumbersome paper-based materials and enhances the learning experience through a more dynamic presentation of information," said Julie Filucci, senior manager, Jeppesen Aviation Training Solutions.
Additional functionality for Jeppesen e-books is planned with future versions, which will include embedded video, audio, animation and social media connection components, depending on device capabilities. Currently available on iPad, additional mobile and desktop platforms are being evaluated as Jeppesen e-book delivery options.
For more information: Jeppesen.com