During its annual convention in Las Vegas last week, the International Council of Air Shows (ICAS) recognized several individuals and organizations for their achievements and contributions during the 2012 airshow season. Air boss Wayne Boggs, airshow performer Rob Holland, former U.S. Navy Blue Angels team lead Captain Greg McWherter, and the Airpower Arkansas at Little Rock Air Force Base were all singled out for special recognition.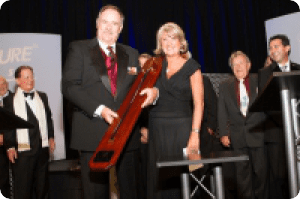 As the 2012 recipient of the ICAS Sword of Excellence, Boggs was cited for the leadership role he has played within the airshow community during the last quarter century. In addition to his work as an ai show "air boss"/aerial choreographer, Boggs serves on the board of directors of both the ICAS Foundation and EAA's Warbirds of America. He has been a leader in helping to train aspiring air bosses. A former air traffic control professional, Boggs joins a list of past recipients that includes Bob Hoover, Paul Poberezny, Charlie Hillard, Leo Loudenslager, Sean Tucker, and Patty Wagstaff.
Airshow performer Rob Holland is the 27th recipient of the Art Scholl Showmanship Award. As a two-time U.S. Unlimited Aerobatic National Champion, Holland is already recognized as one of the most talented aerobatic pilots in the world. His unique brand of exciting, dynamic air show flying has also distinguished him as one of the most entertaining air show performers of his generation, ICAS officials said. He becomes just the fourth pilot to win both the U.S. Unlimited Championship and the Art Scholl Showmanship Award, joining air show legends Gene Soucy, Leo Loudenslager, and Michael Goulian.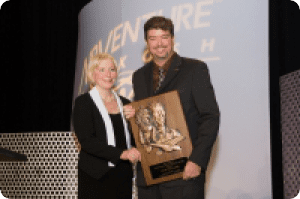 During the awards program, the ICAS Board of Directors presented its Special Achievement Award to Captain Greg McWherter, outgoing team lead for the U.S. Navy Blue Angels. McWherter, who led the team for a total of four years, was recognized for his efforts to integrate the team more fully into the larger airshow community, as well as the personal and professional sacrifices he made when he volunteered to serve a second two-year stint as Blue Angels "boss."
ICAS also recognized Airpower Arkansas at Little Rock Air Force Base as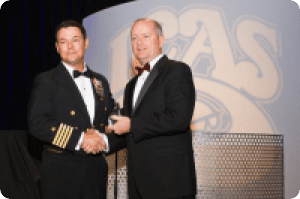 the recipient of the 2012 Dick Schram Community Relations Award. Presented each year to a military airshow that uses its airshow to build stronger community relations, this year's Schram Award recipient was cited for its effective efforts to partner with Little Rock area civic organizations to plan and conduct this world-class airshow.
Next year's convention will be held Dec. 1-4, 2013, in Las Vegas.
For more information: Airshows.aero