PORT LAVACA, Texas — The 2012 Air Race Classic Champions, Dianna Stanger and Victoria Holt, also known as The Racing Aces, have bestowed a $5,000 flight training scholarship on Whitney Brouwer made up of their winning purse and sponsorship money from the race.
According to the FAA, females comprise just 7% of all pilots, a percentage that has not increased in nearly a century of licensing pilots.
Not only was the team racing to win, but one of their main goals was to race for girl's education in aviation. Following their win, they announced that the winning purse and sponsorship money they collected would be used to empower a female to realize her dream of flight by offering scholarship money.
Dianna commented, "Whitney is a very worthwhile recipient and we are looking forward to having our winning $5,000 help her with university expenses."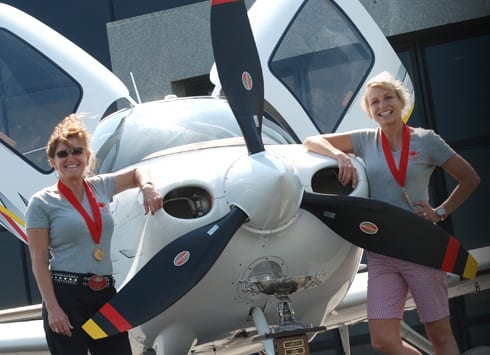 Whitney is a junior at LeTourneau University and currently working on her commercial pilot certificate. She earned her private pilot's license in August 2010 and logged over 250 flight hours.
"The sense of accomplishment that I felt after passing that check-ride was fantastic," said the young pilot. "My burning desire to excel as a pilot grew."
That passion is evident, according to the race team. She currently dedicates her time to working at the local flight service center, is involved with local flight teams and volunteered over 120 hours in high school.
"She helps the mechanics with annual and 100 hour inspections by performing many tasks including changing oil, cleaning spark plugs, and servicing wheels and brakes."said Lauren Bitikofer, Flight Science Chair at LeTourneau University. "In many years of observing and teaching students I would place her within the top 2% of all students for potential, ability, and personal integrity."
The team would like to personally thank the 2012 sponsors; AvFuel, Byrne & Storm, P.C., Federman, Lally & Remis LLC, IBC Bank, Flight Safety, Formosa and Ladd Gardner Insurance. View the Ace's journey online