SEBRING, Florida —The ninth annual U.S. Sport Aviation Expo wrapped up a successful weekend of activities supporting general aviation and the Light-Sport Aircraft industry Sunday, Jan. 20. Expo officials estimate the weekend's attendance will exceed last year's record attendance of 16,000.
Mike Willingham, Executive Director of the Sebring Regional Airport, said, "The weather wasn't as kind to us as it was in 2012, but we believe ticket sales will exceed last year's record number."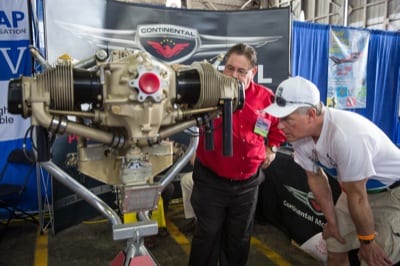 More than 160 exhibitors displayed LSAs and a variety of aviation-related products during the four-day event at Sebring Regional Airport, with several aircraft companies reporting good sales and a list of strong prospects.
John Monnett, founder of Sonex Aircraft based in Oshkosh, Wisconsin, exhibited at the Expo for the first time and said, "I'm quite sure we will sell some aircraft kits based on prospects we've met at this show. It's obvious there's a lot of aircraft builders in attendance here, too."
Jana Filip, director of the Expo, said, "Many exhibitors reported strong sales as well as enough qualified leads to keep them busy for the next couple of months. In Sebring Expo record books, that goes down as mission accomplished, despite the weather not being as good as we'd hoped."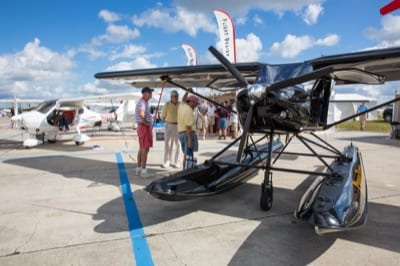 Forty educational forums offered Expo attendees the opportunity to learn about aviation safety, flying in Florida airspace, as well as about the process of building and maintaining aircraft and a host of other aviation topics.
This year, the Seaplane Pilot's Association awarded a scholarship for a fully paid seaplane rating at Expo on Sunday during closing ceremonies. The award went to Angel Castellanos of Lakeland, Florida. The scholarship will fully fund a single-engine rating at any SPA-recognized seaplane training facility in the United States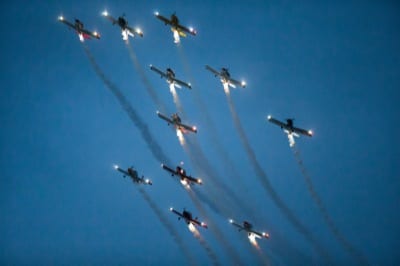 In an effort to entice more people to come to the Expo to learn about aviation, Expo organizers expanded the event's offerings to include a twilight airshow, starring Patty Wagstaff and Team AeroDynamix, and a display of three World War II aircraft from the Collings Foundation's Wings of Freedom Tour, including a B-17 bomber, a B-24 bomber, and a P-51C fighter. All three aircraft were available for tours from Friday through Sunday.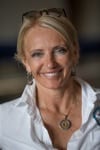 Expo also moved the benefit wine tasting events to 6:30pm to allow people to have time to see the twilight show and then attend a relaxing wine pairing event. Proceeds went to the Humane Society of Highlands County.
A drawing for an iPad Mini was held during the closing ceremonies and the winner was Dorys Pittman, an Expo volunteer.
Willingham said the Expo has already invited both Wagstaff and Team AeroDynamix to perform next year at the Expo.
"We started this show to bring buyers to vendors, so we're committed to providing lots of opportunity for our vendors to demo their aircraft. We feel the twilight airshow allows us to give our exhibitors that demo time but, also entice others who have an interest in aviation to come out to the Expo and just be entertained."
The 2014 Expo is scheduled for Jan. 16-19.
For more information: Sport-Aviation-Expo.com