Austin Watson was enamored with aviation from an early age, but it took a while for him to find the time to get his wings.
"I think I built every model plane there was in the local store when I was a kid," Watson mused. "Dad asked me if I wanted to learn to fly at the local flying club when I was 15 and living on an Army base in Oklahoma. I said yes, but nothing came of it and I had lots of other interests, so life went on.
"When I got out of college a few years later with an engineering degree I went to work for Boeing and made a mental note to myself that if I wanted to be the best Boeing employee I could be, then I must learn to fly," he continued. "Time went by. I left Boeing and came back several times. We raised a family. I had colon cancer at age 47. I quit working to live life. I recovered."
In 2004 the Watson clan was living in Seattle. Watson had returned to Boeing "for good." During orientation he learned about the flying club, where employees can learn to fly.
The Boeing Employees Flying Association had several airplanes, including a Cessna 172XP on floats.
"I started flying lessons in the spring," said Watson. "By 2007, I had worked my way through all the planes in the fleet except the floatplane and the taildragger. The floatplane looked interesting."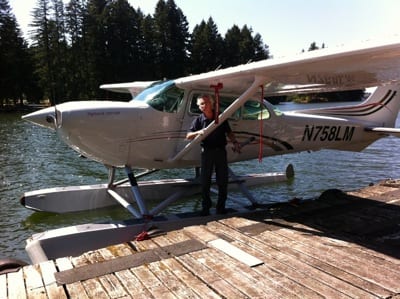 Three months later he had earned his private pilot seaplane rating. By 2009 he had upgraded to a Commercial seaplane rating.
"I was hooked!" he said.
According to Watson, the best part about float flying is that it allows him to commune with nature.
"On wheels you come and go from hot, smelly concrete rectangles," he said. "In a seaplane, it's nature. I am on the water sharing it with the wildlife, birds, fish, otters, whales, sea lions. The air feels good and clean. I am surrounded by trees, hills and mountains. Closeness to nature has to be my first intoxicant."
The low and slow aspect of float flying also has its appeal, he said.
"Having floats underneath you affords a level of comfort while flying low over water that one can never get in a wheel plane," he explained. "When I used to fly to the San Juan Islands in a land plane, it was climb, climb, climb all the way then descend to land. If there was weather in between it was likely a no go. On floats, it's a different story. You actually can get places safely at several hundred feet over the water under overcast and with less than unlimited visibility."
Takeoffs and landings in a floatplane are more challenging than they are landplanes, said Watson, and that challenge appeals to him.
"Imagine a runway that is not flat. It's moving, perhaps up and down as well as sideways, there are animals and people in or near your desired path, and you have no brakes," he said. "As soon as you release from the dock or shore, the wind is moving you somewhere, probably not where you want to go. Meeting the challenge of operating safely in these conditions is personally rewarding."
Watson makes a point of finding a way to do some float flying whenever he travels.
Among the places he's flown are Jack Brown's Seaplane Base in Florida, Chowan River Rats in North Carolina, Southern Seaplanes in New Orleans, and Alaska Float Ratings and Arctic Flyers in Alaska, and Seattle Seaplanes in Washington state.
"At every one of these schools I have learned to be a better float pilot and coming home have been able to share that with my local colleagues," Watson explained.
Watson's favorite local destinations are the mountain lakes in Washington state. He uses these local trips to destress at the end of the week.
"One Friday, after a particularly long hard week at Boeing, I hopped in my floatplane and was on the water in a peaceful mountain lake 40 minutes later," he said. "The week's stress was completely drained out of me. That's the perfect adventure for me and the one that keeps me going flying floats again and again. I am a recreational pilot. My airplane is an expensive video game. It's fun and rewarding to meet the challenge. I just love to fly."
In 2010 Watson decided to buy his own airplane, N758LM, a restored 1979 Cessna 172XP on PeeKay straight floats.
"I fly 8LM almost every week and plan to do so for many more years," he said. "Right now I am hard at work completing preparation for my CFI checkride and, with a little luck added to a lot of hard work, I will be a float rated instructor by springtime this year."