One summer day North Carolina teacher Jana Brown got to thinking about what her students were doing with their summer off.
Then her thoughts wandered to a story her husband told her about being given a helicopter ride one summer at the beach when he was 8 years old. "While he didn't pursue his pilot's license until he was in his 30s, the experience never left him and fueled the passion he has for aviation," she recalls. Putting the two ideas together, the veteran teacher, with more than 21 years in the classroom, came up with the idea for an aviation summer camp called ASCEND (Aviation Summer Camp: Exploring New Dimensions).
She brought the idea up at the annual planning meeting at EAA Chapter 1083 at Rowan County Airport (RUQ) in North Carolina.
"The idea was well received," she said. "We have lots of energetic volunteers who were ready to help however they were needed. We began planning sessions and had our members volunteer to instruct or help in ways they would be most beneficial."
Now in its third year, the week-long program, slated this year for June 17 to June 22, is for kids between the ages of 13 and 18.
Fueling the program is a grant from the Taco Bell Graduate to Go program. "One of our members has a son who was a CEO of the program," Brown said.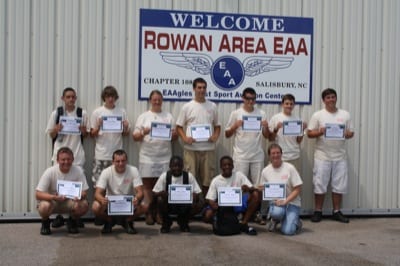 That opened the door, giving them the opportunity to apply for grant. "We, of course, had to meet their guidelines and philosophy of their program, which is to keep kids in school and give them a reason to graduate," she says. "Our goal is to help students gain knowledge of aviation in general, as well as specific aspects of aviation in order to lead them to explore careers in aviation. We try to empower students to continue their education in whatever field they decide to pursue and continually stress the importance of higher education."
Receiving the grant "helped us to be able to give the kids an awesome experience," she continues. "We provide them with shirts, hats, backpacks, and supplies for note taking and flight planning."
The camp's curriculum is based on the Aircraft Owners and Pilots Association Path Curriculum, she notes. Brown and another certified teacher plan how the camp will flow, aided by volunteers who teach the different aspects of the curriculum.
"We teach the phonetic alphabet, parts of the airplane, the four forces of flight, flight controls, covering techniques, instruments, weather, flight planning, CG and weight and balance, riveting, traffic patterns and flight simulator," Brown says, ticking off all the items on the agenda. "All of these activities have a hands-on aspect to them in order to keep students engaged. We also give the students a right seat flight during a Young Eagles rally following the camp where they take the controls and offer them an online ground school through the Experimental Aircraft Association. Taco Bell has made it possible to present them with a certificate for a Discovery Flight with a certified instructor after the camp has ended in order to explore flight training."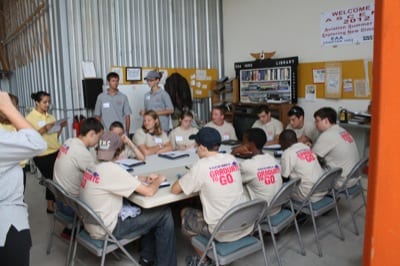 Every moment of the day is planned, she notes, with volunteers in charge of providing lunch from various restaurants in the area — along with life lessons.
"During lunch, we have our volunteers talk with the students about their careers and experiences in aviation. This includes our airport manager, who is a commercial pilot but chose to make a change so he could be home with his family. We have had talks about building homebuilt aircraft, a World War II veteran spoke of his experiences in aviation, and others have discussed air and rescue operations, the military, and more."
The week also includes a tour of the airport to show the students the day-to-day operations, as well as up close looks at a Highway Patrol helicopter, as well as several jets and other unique aircraft. Also on the agenda are field trips to local museums.
So is all the hard work worth it? Absolutely, says Brown.
"After our first camp, one of our students who had just finished her sophomore year in high school was truly bitten by the aviation bug," she said. Now a licensed pilot, she is already giving back, flying Young Eagles during rallies while she prepares to enter Embry-Riddle Aeronautical University next fall.
"Another of our students from the first year who was only 14 soloed right after his 16th birthday and is working on his license," she continued. "Still another girl from the first year who was only 13 at the time joined Civil Air Patrol and has become very involved. Two girls from our 2012 camp are pursuing careers in aviation, while a 14-year-old boy already has more than 10 hours towards his license."
Many of the former campers return as interns for the next year's camp, she said. The chapter's goal is the eventually double the number of students attending the camp — which is now limited to 25 — and increase the percentage of those who wish to pursue aviation as a career, she added.
"It is crucial to the future of aviation to involve kids in our programs," Brown declares. "Without kids, we cannot continue to grow aviation in the 21st century."
She encourages other EAA Chapters "not to be afraid to take that first step."
"There are many talented people in every group who would like to share their knowledge and expertise with others," she says.
Brown and the folks at EAA Chapter 1083 are more than happy to share, as well.
"If there are other groups who are interested in considering an endeavor of this type, we would be glad to help them get started," she says.
For more information: AviationSummerCamp.net and 336-752-2574