This summer marked my 13th AirVenture. After a few years of going to the big show, I noticed that whenever I encountered someone with a particularly unusual or well-kept airplane, the names Bel Air Estates and Poplar Grove Airport (C77) in Illinois were attached to them.
The privately-owned, public use airport came first, says Steve Thomas, whose father Dick established the airport in 1972 after retiring from dairy farming.
"Before what is now known as the Poplar Grove Airport, we did have a farm strip on the farm where I grew up," Thomas says. "It was a marginal grass strip complete with a hill, trees and wires for obstacles at each end. It wasn't an ideal, safe landing strip."
According to Thomas, his mother was behind the idea of creating a better, safer airport, so his father went to work on his new project.
"Boone County was the only county in the state that didn't have an open to the public airport, just a few private strips, so it made sense for him to create one," Thomas explains, adding, "I had a very important job in the beginning: Cleaning the manure out of a couple of cattle sheds that we converted to the first hangars, which we still use today!"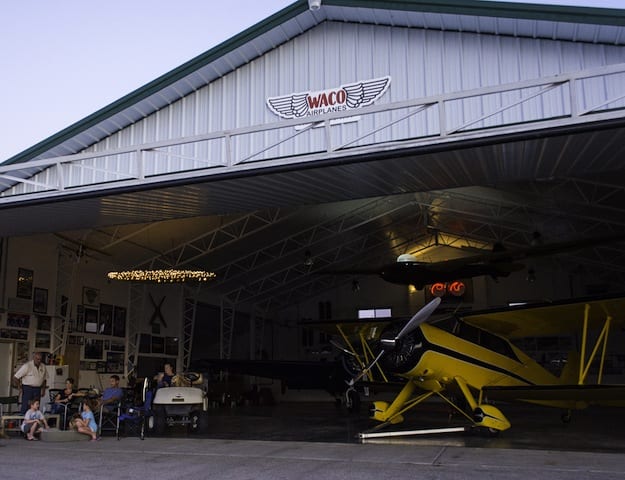 In 1994 Dick Thomas went west, and Steve Thomas and his wife Tina bought the airport. At the time, it was home to approximately 40 airplanes, a small flight school, and a maintenance shop.
"The airport was struggling like other small, general aviation airports," Thomas says. "Recognizing that we could never be a meaningful commercial-corporate airport with Rockford located 14 nautical miles away and no state or federal funding, we chose to develop our airport as a lifestyle airport — friendly, fun, home to cool airplanes, and the people and pilots who love them."
Poplar Grove Airport is located within an hour's drive of Chicago, Milwaukee, and Madison, Wisconsin, an area saturated with pilots. This, coupled with available land, led to the establishment of Bel Air Estates in 1997. By 2001, the airpark was sold out. There are 100 lots with airport access, 40 lots without access, and 39 condominiums on the property.
The airport has a 4,000-foot hard surface runway, as well as north-south and east-west grass runways.
"The grass runways are very important to us," Thomas says. "We maintain the airport like a golf course, which is important to maintain desirability, property values, and demand."
The airpark doesn't have a homeowner's association, according to Thomas.
"Since I already owned and maintained the common area, there was no need for an association," he says. "When people purchased a lot for their home and hangar they were granted an easement for the use of the runways. There are some good benefits to this arrangement. Besides not having the job of creating and maintaining an association, these folks aren't subjected to the liability of the common area, runways, underground fuel storage and such — I already have it. The homeowners with airport access just pay the airport a monthly fee for the use and maintenance of the airport, which is currently $77 a month."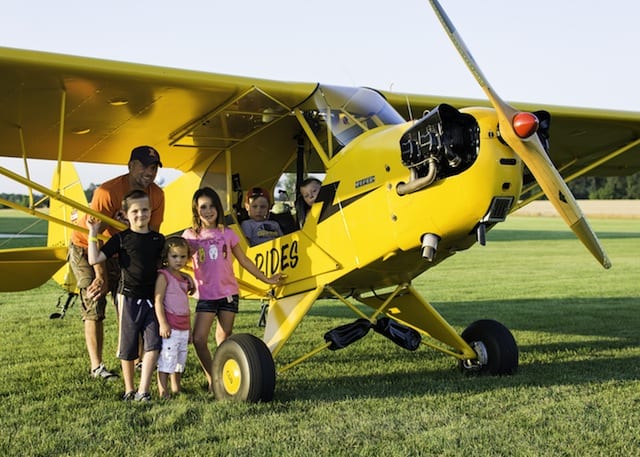 You don't need to be a pilot to live at Bel Air Estates, according to Thomas, who notes that three of the homes with airport access are occupied by non-pilots.
"They love the neighborhood," he explains. "What makes this a true neighborhood is everyone gets to know everyone, unlike subdivisions today where you barely get to know the folks three doors down. Another important aspect to our neighborhood is that it's large enough that you're bound to connect with someone who has the same interest as you. These common interests could be the type of airplanes you like — antiques, classics, Bonanzas, RV — or it could be age, military background, families, you name it. To a certain degree, our neighborhood is one big family."
The airport has a symbiotic relationship with the airpark. The FBO, Poplar Grove Airmotive, has a flight school and, according to Thomas, a "well-respected" engine overhaul shop.
"Our flight school is important to bringing and developing new blood, so to speak, into aviation and our community," he says. "In addition to the typical flight school airplanes, we teach, rent and promote tailwheel instruction in our J-3 Cub and Cessna 140. Our business has a great relationship with the neighborhood. The flight school seems to be a gathering place for coffee, stories, and to see who's going to what fly-ins or activities."
The airpark is home to a wide variety of aircraft.
"As you might expect, there are a number of RVs here, 20 J-3 cubs, 15 to 20 Cessna 120-140s, Luscombes, homebuilt biplanes, lots of Bonanzas and other store-bought airplanes," he says. "Another important aspect is people fly their airplanes. It is very active here on a nice day, so there's always something to see."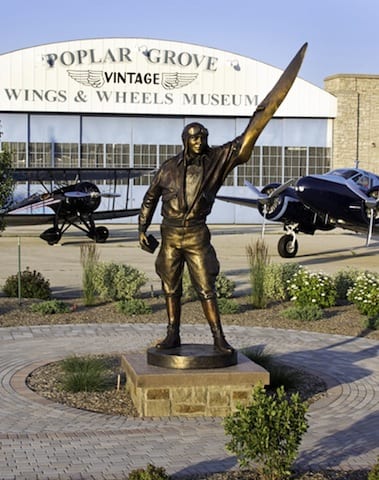 In 1997, the shared interests in vintage aviation led to the creation of The Poplar Grove Aviation Education Association and the creation of the Poplar Grove Vintage Wings & Wheels Museum. The idea was to create a pre-World War II museum highlighting automobile and aviation transportation. One of the most important acquisitions for the museum was the stone hangar that houses many of the artifacts. The hangar was built in 1937 by the Workers Progress Administration at Waukesha Airport near Milwaukee. As the museum was beginning to take shape, the association learned that the hangar was slated for demolition and removal.
"It would break our hearts to see this beautiful stone hangar get demolished and end up in a landfill," Thomas recalls. "We made a pitch for it to the local authorities and they agreed to allow us to dismantle it stone-by-stone and restore it here at Poplar Grove. It was a huge task."
According to Judi Orsi Zangs, the general manager of the Poplar Grove Vintage Wings and Wheels Museum, the exhibits are made up of donated and loaned items.
"One very popular item is a new 16-foot bronze statue of Elrey Jeppesen by sculptor George Lundeen, which was just donated to the museum this year," she says. "There is also the 1931 Corben Baby Ace, Serial #1; a 1930 Model A Mail Truck; and a cutaway of a Wright Cyclone R-1820 engine, soon to be joined by a completely restored airworthy 1941 Aeronca Chief."
The museum's curator, Joanna Dowling, has a long-term plan to create exhibits that show how the early aviation and automotive industries grew together in the late 19th and early 20th centuries, she continues. "The exhibits show how these innovations in transportation changed society and how we work and play," she says.
The museum has three part-time employees and many volunteers. It is funded by donations, memberships, and year-round fund-raising events, such as a monthly hot-dog brat lunch.
The museum's educational foundation gives away $8,000 a year in scholarships to fledgling pilots.
The airport also is home to a thriving EAA chapter (Chapter 1414), which holds Young Eagle events and, during the summer months, monthly fly-in breakfasts.
"Considering the airport, neighborhood, the diverse personalities and airplanes — there are over 400 based here — and the activity, we truly have a special place here," Thomas says.
For more information: PoplarGroveAirmotive.com, TheVintageMuseum.com
 Photos by Matthew Rohrer Photography