WINDSOR LOCKS, Conn. — The New England Air Museum will host its ninth annual Women Take Flight event on Sunday, Nov. 3. The program features women who have pioneered new careers for women in aviation and aerospace engineering.
Guests will share their experiences at stations around the museum one-on-one with museum visitors, at presentations, and at panel discussions. Re-enactors will portray famous women aviators from bygone eras including Harriet Quimby (the first woman licensed pilot in the United States) and Bessie Coleman (the first African American pilot in the United States).
Discover the opportunities women now have working in the aviation and aerospace industries while seeing examples of their work in the museum's collection.
The program is sponsored by the Petit Family Foundation and presented in cooperation with the Connecticut Chapter of the Ninety-Nines (International Organization of Women Pilots).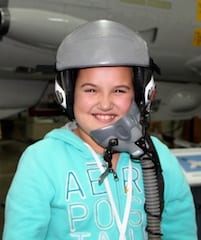 Among the 20 women in aviation expected are: Bee Haydu, a Woman Air Force Service Pilot from World War II who was awarded the Congressional Medal of Honor by President Obama; Jessica Cox, the first pilot without arms; Captain Elisa Raney, Navy helicopter pilot shot down in Desert Storm; Patricia Beckman, Commander US Navy (retired) and flight test navigator for the Boeing company; Lucy Young, Commercial and Navy Pilot (second woman carrier certified); Dori Freer, Commander US Navy (retired) and Aviation Safety Operations Manager for Sikorsky; Terry vandenDolder, American Airlines and Air Force pilot (retired); Martha Parish, FAA Operations Inspector; Olga M. Mitchell, Mary Build and Margot Cheel of Team #5 from Classic Air Race 2013; Pratt & Whitney Women's Council; Women Air Reservists at Westover Air Base, Chicopee Mass.; Linda Maloney, Naval aviator and author of Military Fly Moms; Dena Williams, Air Force Pilot withHurricane Hunters.
The New England Air Museum is open from 10 a.m. to 5 p.m. seven days a week and is located adjacent to Bradley International Airport. Admission prices: Ages 12 and up $12; children 4-11 $6.50; ages 3 and under are free; seniors 65 and up $11.
For more information: NEAM.org or 860-623-3305