WINDSOR LOCKS, CONN. — The New England Air Museum will hold its annual Veterans Day Event on Sunday, Nov. 10.
Visitors will have the opportunity to meet and talk one-on-one with veterans of World War II, Korea, Vietnam, Iraq and Afghanistan. They will also have the chance to sit in the cockpits of a number of combat aircraft, including the F-100 Super Sabre, the World War II Thunderbolt, the Huey Helicopter, the Cobra Helicopter and more.
Additionally, there will be representatives of numerous organizations that offer service and support to active servicemen, servicewomen, their families and veterans. They will provide detailed information about their programs.
Museum educators will provide hands-on activities for younger visitors and the Flight Sim Spot full-flight simulator experience will be available throughout the day.
The museum will be open from 10 a.m. to 5 p.m. Admission is $12 for ages 12 and up, $11 for seniors 65 and up, and $6.50 for ages 4 to 11. Children under 4 are admitted free. On this day and on each day in November all veterans and active service personnel will be admitted free of charge.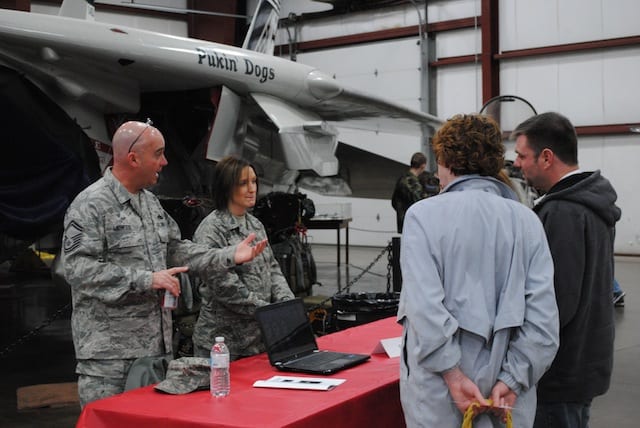 The New England Air Museum is a private, non-profit educational institution that was organized in 1959. Three hangars and an outdoor display contain more than 80 aircraft with permanent exhibits that include the oldest surviving aircraft in the U.S. — the 1870 Silas M. Brooks Balloon Basket, as well as an S-39 Amphibian plane, the first aircraft built in Connecticut by aviation pioneer Igor Sikorsky. Featured year-round are many historical aircraft and exhibits including a focus on World War II's Tuskegee Airmen, and a display about Amelia Earhart alongside a Lockheed Model 10 Electra, the same type of plane flown by the female aviator. The museum is on the North end of the Bradley International Airport airfield in Windsor Locks, Conn.
For more information: NEAM.org or 860-623-3305.