SEATTLE — CarpenterDev has introduced its Wireless AirData System for the general aviation market, as well as FAA certification of its Aircraft Device Cradle.The Aircraft Device Cradle (pictured above) is approved for all models of Cessna 172, Cessna 182, Piper PA-28 and Piper PA-32 airplanes.
The FAA Seattle Manufacturing Inspection District Office (MIDO) has issued CarpenterDev Part Manufacturer Approval (PMA) to produce the cradles. The ACO has also approved an amendment to the cradle STC that provides a streamlined approval process for the electronic devices the cradle is designed to hold.
The patent-pending Aircraft Device Cradle is a silicone rubber part that attaches to airplane wingtips for holding a variety of portable wireless electronic devices that communicate using Bluetooth technology with custom apps running on Apple's iPad, Android devices, or on portable Electronic Flight Instrument Systems (EFIS).
The cradle is the certified centerpiece of the Wireless AirData System the company will begin producing in partnership with manufacturers of existing handheld equipment and software developers, according to company officials.
The electronic devices the cradle holds will include true air data sensors for differential air pressure, air temperature and barometric pressure. This allows for enhanced pilot safety by providing low-cost instrumentation for airspeed, density altitude and angle-of-attack, company officials explain.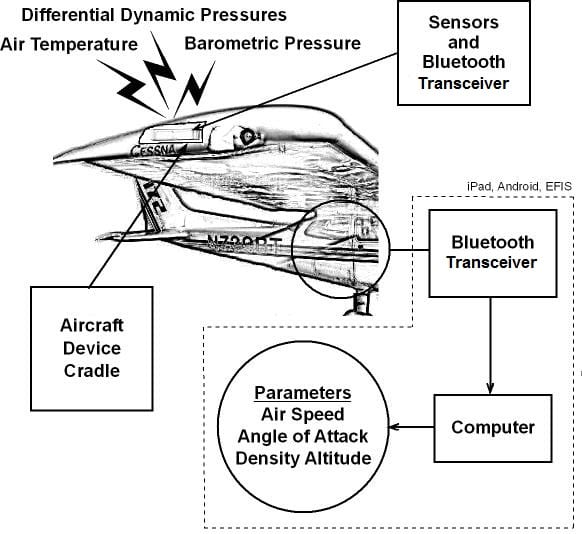 Most general aviation airplanes only have a single airspeed indicator, and very few provide density altitude and angle-of-attack instruments. Until now, the addition of these types of safety instruments was expensive, often costing several thousand dollars, company officials said. With the Aircraft Device Cradle and its Wireless AirData System, pilots can add backup airspeed capabilities, and the other instruments at a much lower cost. Several different product bundles will be offered, officials add.
Company President Bob Carpenter, a pilot, says "By bringing the Wireless AirData System to market, pilot safety will improve by putting important instrumentation within financial reach of more owners and pilots. Plus, older airplanes, many of which do not have wingtip strobes for example, can now be fitted with them to improve day and night visual awareness."
He noted he envisions the cradle being adopted for devices such as video cameras, vibration sensors, and attitude sensors, among others. Since the devices that fit in the cradle are meant to be removed between flights, there's a likely market for pilots that want to purchase, or possibly rent, devices for temporary use, such as cameras that they control with iPad or Android apps.
The Aircraft Device Cradle, the Wireless AirData System, and supporting iPad, Android and EFIS applications are expected to start being available in the first quarter of 2014.
For more information: CarpenterDev.com