By J. DOUGLAS HINTON
The annual Reno Air Races, held every September since 1964, attract some 200,000 spectators over the seven-day event. What better way to get the inside straight skinny than from an actual participant?
Thom Richard, president and CEO of Kissimmee, Florida-based Warbird Adventures, has been racing at Reno since 2008, winning several awards among the six categories (Sport, Formula One, Biplane, T-6, Unlimited and Jet). Currently he is racing in the Unlimited Category using his highly modified P-51 "Precious Metal."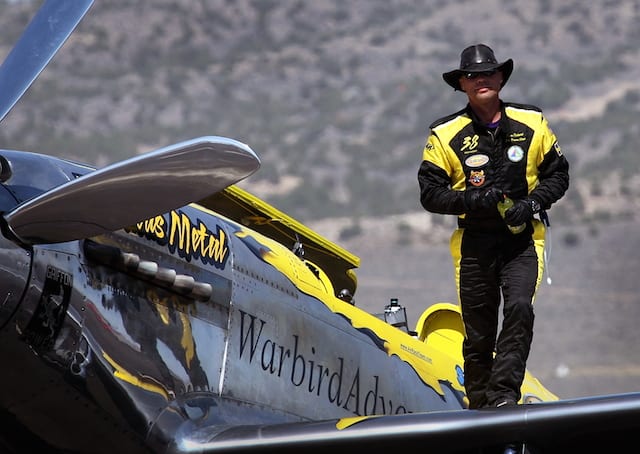 Born in Sweden, Richard arrived in the United States as a teen determined to achieve his aviation dreams. While he had flown gliders in Sweden, when he arrived in California, he began flying various taildraggers, learning aerobatics before he even had his private pilot certificate. After earning all his ratings, including an A&P/IA, he barnstormed around the United States, and flew fire watch and skydivers.
In 1997, he and a friend, Graham Meise, joined forces, maxing out their credit cards to buy a T-6, creating Warbird Adventures, offering rides to tourists and instruction to pilots. While the pair initially planned to travel around the country, they found themselves based in Kissimmee at the Flying Tigers Warbird Restoration Museum. When that museum shut down in 2004 after Hurricane Charley, the pair opened the Kissimmee Air Museum.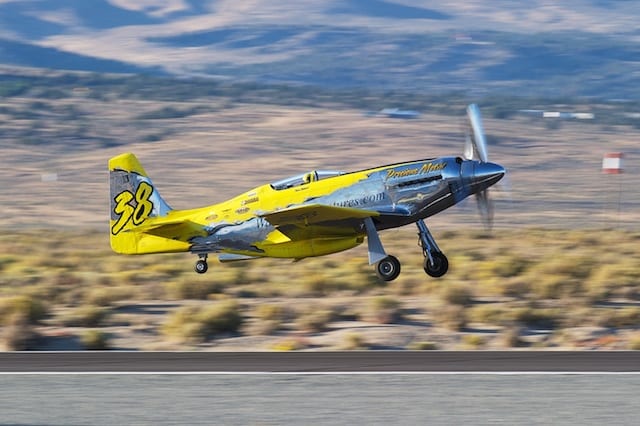 Today, flights are offered in the company's three SNJs and the museum is open to the public most days. Richard reports that more than 30,000 customers have flown with Warbird Adventures.
It was six years ago that Richard achieved another of his aviation dreams, racing at Reno for the first time in 2008.
GAN: Thom, tell us about your experiences racing at Reno.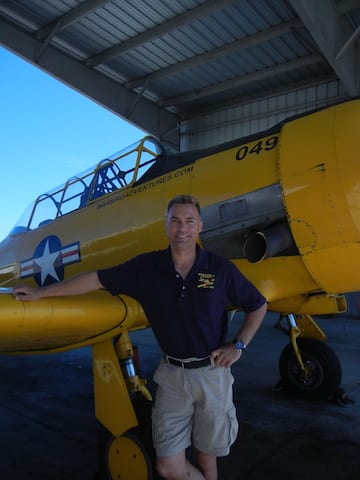 Richard: The first two years I flew in the Formula One class, which mandates a minimum of 500 pounds empty weight, fixed gear and prop and a 100-hp engine over a 3.1 mile course. And the pilot has to have a minimum of 500 hours total flight time. I got gold and silver awards. Then I moved on to the jet category, flying a Polish "Iskra" jet. Finally I settled on the Unlimited Class in 2011 with my P-51.
Presently, all competitors are highly modified World War II fighters such as Spitfires, Corsairs, Mustangs, Seafuries, and Thunderbolts. All in all, we usually have about 150 aircraft racing in the various categories.
GAN: How is your P-51 modified?
Richard: Everything from the firewall forward is different — 1,000 more horsepower with the Griffon engine that uses 160 octane fuel with injection and we also use a contra-rotating propeller.
Safety is another issue. Well over 20 pilots have been killed over the course of the years, including one at the 2014 event. During qualifying, all racing aircraft are inspected to determine their airworthiness to compete. Some may remember when Jimmy Leeward fatally crashed in his Mustang in 2011, killing 10 spectators and injuring 69. This brought about a number of rule changes.
GAN: What transpired after Leeward's death?
Richard: For one thing, the rest of the event was canceled. For another, the course was narrowed, moving it further away from the spectators. Also our altitude limits were decreased. Where we previously had to fly above 50 feet and below 500 feet, the upper limit was decreased to 250 feet to reduce the scatter pattern should something fall off the airplane or a crash ensue. This pretty much ordained that we pass another aircraft on the outside as there wasn't much room for an inside pass on the narrowed course.
GAN: So how does the race start?
Richard: Unlimited Class is limited to 27 aircraft in three heats of nine aircraft each (Gold, Silver, Bronze). Qualifying begins several days before the actual race in the varying categories. The winners are decided by where they place.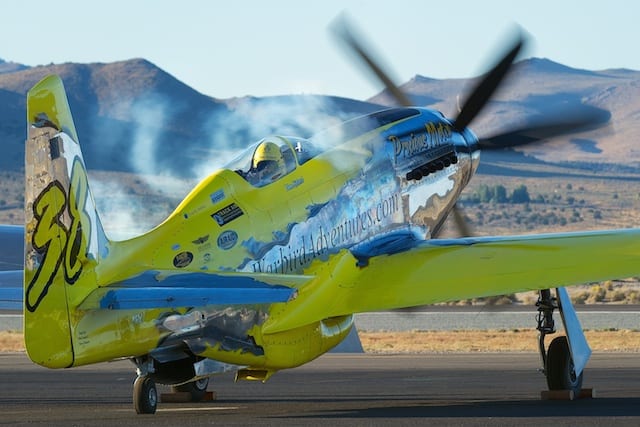 As for judges, there are several at each of the 10 pylons over an 8.1 mile course, plus one each at three of the course boundaries to monitor whether anyone violates the lines.
GAN: What about aircraft support?
Richard: Well, as you might imagine, there's a lot of fine tuning to be done during the qualifying trials. I bring a few mechanics with me to Reno and utilize some locals on the scene. I'd say we use some 30 technicians at various times to keep everything ticking first class prior to Sunday's final race.
GAN: What about insurance?
Richard: That's a toughie. Given the market price of these birds, usually well over $1 million, and the nature of the activity, most racers take a pass on hull insurance, but liability insurance is a must and that ain't cheap either!
GAN: Well it seems the whole adventure can't be cheap, considering fuel, maintenance, fees, accommodation, and getting to and from Reno. Do you mind telling us how all this is financed and paid for?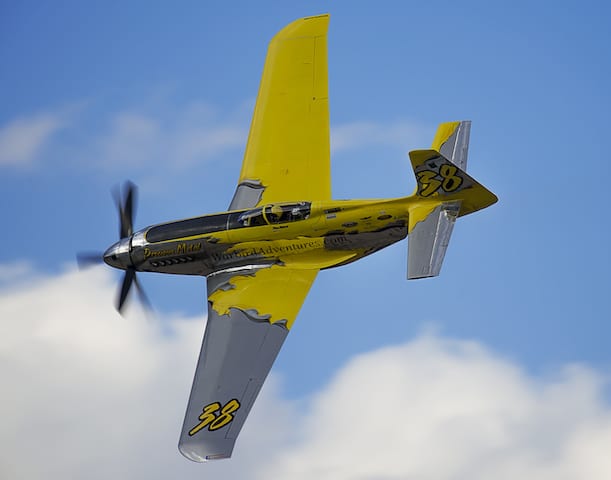 Richard: Not at all. Besides myself, I have a few silent ownership partners. Among us, we keep the flame alive. And, as you know, we have the warbird museum and three SNJs in which we give rides, do aerobatics, and offer instruction. Activity and income varies, depending on the season, but it's good enough to keep the doors open and still allow us to go to Reno every year.
Controversial call
At this year's races, Richard was disqualified for crossing a line. His cockpit camera disputed the call, but a judge's decision is not subject to discussion. However, that didn't stop the controversy.
A statement from the Reno Air Racing Association sums it up best: "The passion of our air race fans is truly unmatched and is reflected in the conversations that have gone on since the end of the 2014 National Championship Air Races. It's unfortunate that the quality of racing during this year's event has been overshadowed, for some, by the controversy surrounding the disqualification of "Precious Metal" in the Breitling Unlimited Gold Race.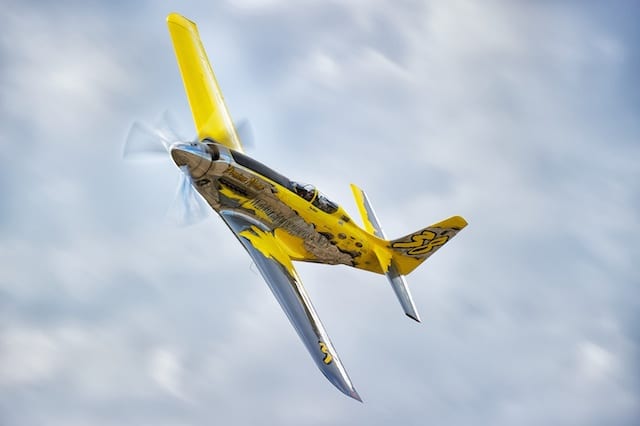 "We have reviewed this issue thoroughly and fully support the decision of our contest committee, who followed the Reno Air Racing Association and FAA rules in every way. We will, however, work with our pilots and race classes to identify ways to further enforce the integrity of our event. This could include measures like adding more judges at critical points on the race course and/or looking at something like a transponder plot as a potential solution to minimizing controversy."
Race officials note they have seen Precious Metal's cockpit video.
"It does give the appearance of a clean race. However, you cannot see the east show line in the video because it is somewhere under the center of the aircraft. The east show line is a specific line defined on the ground by a fence on the east boundary of the race course, which is also the east end of the Stead Airport boundary. RARA rules, which are in compliance with FAA guidance for air racing, state that any show line violation will result in a disqualification, which is not protestable. Undoubtedly, Precious Metal flew a good line and a good race on Sunday but, as it shows in the cockpit video, the beginning of lap two was wider than the rest of its passes. This is where the non-protestable violation was observed and the disqualification penalty was assessed."
"We understand that controversy is an inherent part of sports and the National Championship Air Races is no different. The best pilots in the world travel here every year to celebrate their love for aviation and compete against each other to determine the national championship. We will continue to work with our pilots and race classes to do everything in our power to ensure fair, safe, competitive racing."