Belfort Instrument Co. has installed an AWOS AV at the Cottonwood Airport (P52) in Cottonwood, Arizona.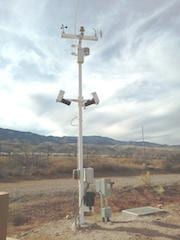 The Belfort Automated Weather Observation System (AWOS AV) provides pilots with Wind Speed, Wind Direction, Wind Gusts, Temperature, Humidity, Dewpoint, Altimeter Setting, Density Altitude, and Visibility.
The Cottonwood AWOS information will be available via VHF broadcast, telephone, as well as over the Internet.
"Prior to the installation of the Belfort AWOS AV system, the closest weather reporting station available to pilots operating out of Cottonwood was 19 miles away in Sedona, Ariz. The new AWOS will also be available to broadcast custom messages to pilots letting them know the local conditions, such as airport closures or construction on the airport that would limit airport operations. The availability of local conditions benefit the pilots and improves operational safety at the airport," said Morgan Scott, Cottonwood Airport Manager.
For more information: BelfortInstrument.com