Sporty's Pilot Shop now offers flight and ground instructors a $25 Sporty's Gift Card each time one of their students buys a Sporty's complete pilot course — available for Private, Sport, Recreational and Instrument training.
To qualify for the rewards, instructors must register for the rebate program at Sportys.com/CFIRebate.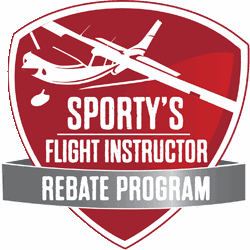 Sporty's Learn to Fly Course for Private, Sport and Recreational pilot, as well as Sporty's Instrument Rating Course, allows pilots to customize their learning experience and train at their own pace, according to company officials.
Sporty's courses are delivered in a mobile-friendly, online format as well as DVD and a dedicated app for iOS devices. Courses include video-based training, dedicated written test prep software, flight training syllabus, PTS and more. Pilots are guaranteed to pass their written, oral and flight test, Sporty's officials said.
Sporty's CFI Rebate does not include any complicated rebate or redemption procedures. Once the CFI enrolls in the program, and a student orders a course, the student enters the instructor's unique code. The $25 CFI Gift Card is automatically credited to the instructor. Gift cards do not expire and are mailed to instructors monthly. There is no limit to the number of cards that can be earned by an instructor.
Instructors should go to Sportys.com to register for free.