Women in Aviation, International (WAI) recently hosted its 25th annual conference with three days jammed with activities to honor the past, guide the present, and plant seeds for the future.
Disney's Coronado Springs Resort in Lake Buena Vista, Florida, was the scene for the 2014 International Women in Aviation Conference held March 6-8. More women than ever attended this year's conference, with attendance setting a new record at more than 4,500 registered individuals, representing all segments of the aviation community.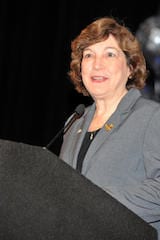 "Our members came out in full force for our 25th anniversary conference, and we signed up a lot of new members. Despite many of the military personnel unable to attend due to budget constraints, we had a very active, very upbeat conference," said Women in Aviation, International President Dr. Peggy Chabrian. "I could never imagine the size of this conference back 25 years ago at our first one in Prescott, Arizona."
Four women were inducted into WAI's International Pioneer Hall of Fame during a banquet Saturday night. They include Dr. Nancy Currie, NASA Astronaut and mission specialist on the International Space Station; Beryl Markham, author of aviation classic "West with the Night"; Sally Ride, NASA astronaut and first American woman in space; and Sheila Scott, a British pilot with more than 100 records, trophies and awards.
"Our Pioneer Hall of Fame allows our members to learn about – and sometimes even meet – women who have made significant contributions to aviation and helped open doors for them," said Chabrian. "Along with the presence of WASP at our conference, we make certain to recognize and honor our past."
Long lines in the exhibit hall of pilots attempting to get job interviews were helped this year by a new system where WAI members could get a "Fast Pass" and not have to wait in line for time with hiring representatives.
Friday and Saturday mornings were general sessions with both afternoons reserved for education sessions.
Part of the 25th annual celebration included making a time capsule to be opened at the 50th anniversary conference (date and venue to be announced). In addition to the publications, products, toys and other items placed in the time capsule, members were given a card asking some questions about themselves and the industry, one of which was a prediction about the aviation community 25 years from now. Many predictions concerned more opportunities for women in aviation along with predictions about the role of drones.
Here are three exuberant predictions about to be sealed for 25 years:
· "Women will rock the world!"
· "WAI 25,000 members and still creating awesome opportunities for women in aviation."
· "An increase of women in aviation, and moon vacations!"
The future was also nourished with WAI's third annual "Bring Your Daughter to the Conference Day" or Daughter Day for short. This is a day-long event where girls from 10 to 17 take part in activities to encourage them to select aviation as a career. The girls learn the phonetic alphabet, learn how to read a sectional, build an airport, fly a simulator, go on a scavenger hunt in the exhibit hall and more. A mini college fair and career panel round out the day.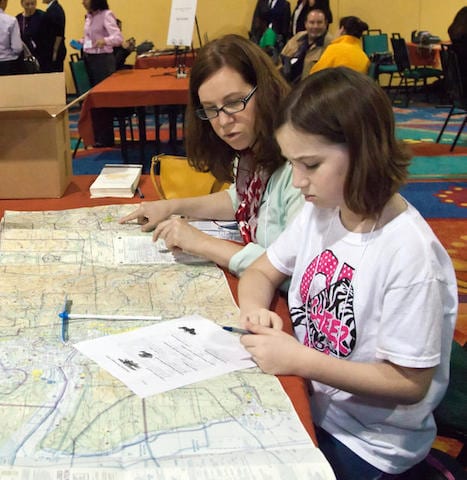 "This was our biggest Daughter Day by far with 250 girls and 80 chaperones. Many of the attendees came from the local Orlando area from interested schools and local Girl Scouts," said Chabrian. "Thanks to our sponsors, we are able to keep the price low at $10 per girl, including lunch, and chaperones attended free."
The Sporty's Foundation supplied a sectional chart, a cockpit wall poster, and a logbook for each girl.
Other Conference highlights include:
Attendance of 4,556 representatives with 241 international attendees. The largest number of international attendees were from Nigeria, Canada, and United Arab Emirates, in that order.
The Exhibit Hall displayed 133 separate companies and organizations, representing all aspects of the aviation community.
86 scholarships were distributed to WAI members at every stage of life from university students to mature members seeking a mid-life career change to aviation. A total of nearly $500,000 in scholarships were awarded.
The 26th Annual International Women in Aviation Conference will be held at the Hilton Anatole in Dallas, Texas, from March 5-7, 2015.
For more information: www.wai.org