DAHER-SOCATA has unveiled the newest member in its TBM family of single-engine turboprop business aircraft – the TBM 900.
Developed during a more than three-year program involving 160,000 research and development hours, along with 200 hours of flight testing, the TBM 900 has been certified and will be ready for deliveries beginning this month, according to company officials.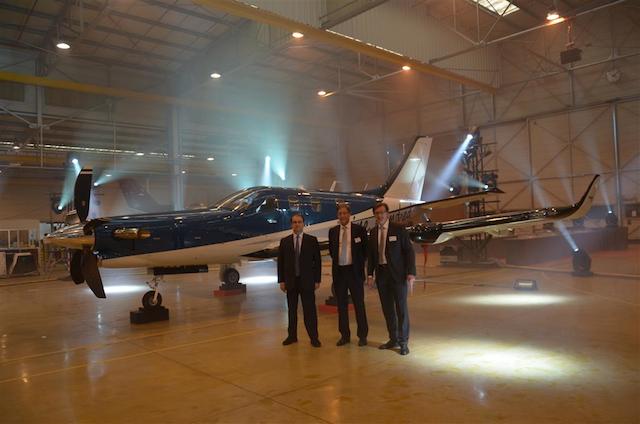 DAHER-SOCATA has integrated 26 modifications in the TBM 900, building on the basis of its TBM aircraft family, including:
Aerodynamic optimization through the addition of winglets and a vertical tailfin strake, as well as a new tail cone;
The use of a five-blade composite propeller and redesigned spinner;
A nose-to-firewall redesign for improved engine airflow circulation – featuring a banana-shaped air intake, carbon-fiber cowlings and new exhaust stacks;
Enhanced human-machine interface features, ranging from an ergonomic control yoke with new functions to the restyled cockpit panel for increased visibility and interaction with secondary system controls;
A revised cockpit center pedestal that incorporates a single-control throttle operation, associated with a new torque limiter that enables the use of 850 hp. engine power at takeoff;
A completely revamped electrical system with 300-amp starter generator that allows new avionics and electronic devices to be incorporated on the aircraft. Its new electric core enables a semi-automatic start-up, while the new-generation 100-amp stand-by alternator provides electrical input in case of power supply loss.
The 900's airframe is the same as the predecessor TBM 850 – including its Pratt & Whitney Canada PT6A-66D powerplant.
The TBM 900's top cruise speed is increased to 330 KTAS at 28,000 feet, and its maximum range is extended to 1,730 nm with five adult passengers as a result of the fuel consumption reduction to 37 U.S. gallons per hour, according to company officials.
For more information: TBM.aero