ALBUQUERQUE, N.M. — Sandia Aerospace has introduced the SAI 340 Quattro, a replacement for steam-gauge standby instruments in EFIS-equipped aircraft. The Quattro displays indicated airspeed, barometric altitude, roll and pitch and provides a slip indication.
"We have delivered a tremendous number of features in the Quattro, especially considering it weighs just half a pound," says Sandia President Dennis Schmidt. "It's an excellent safety-enhancing addition to a panel's traditional six-pack."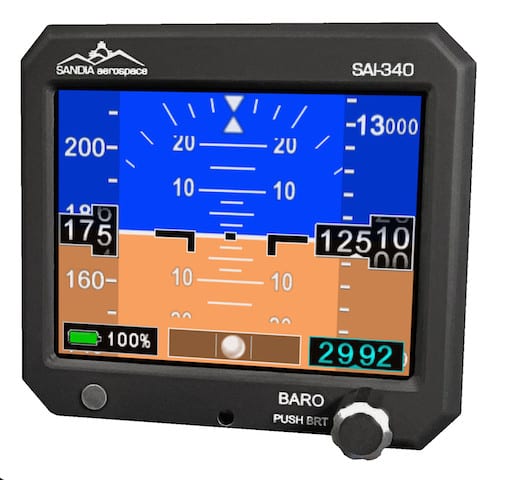 With solid-state reliability, the SAI 340 Quattro displays air transport-quality graphics in an easy-to-read EFIS presentation. For backup, the Quattro has a small, rechargeable lithium battery which can operate for two hours of nominal time and 30 minutes minimal time.
Other features of the Quattro include pilot-entered barometric correction, automatic and manual backlight control, internal battery charge status, and a panel-tilt configuration.
Since the Quattro was designed with 3" instrument hole mounting, installation may involve little more than dropping the unit into position, company officials said.
The SAI 340 Quattro will be available in the summer of 2014 with a retail price of $3,595.
For more information: www.sandia.aero