SEATTLE — The Raisbeck Aft Fuselage Locker for the Learjet 60 series Business Jet has completed all of the FAA-required Certification tests.
The test aircraft, 60-197, is now in refurbishment at West Star Aviation where it will receive a full paint job and interior update prior to redelivery back to its owner, according to company officials.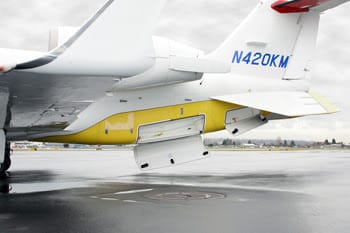 At just under 30 cubic feet, the 60-AFL concept and general shape closely resembles the earlier Aft Fuselage Lockers designed and certified for the Lear 30-series in the late 1990s, except the internal volume is almost three times as large, company officials explained.
Raisbeck Engineering began the development effort in 2009, with cooperation from Bombardier LearJet in Wichita, who lent technical support and documentation crucial to the program's ultimate success, company officials noted.
Initial flight testing with the locker shape was conducted in late 2009, to prove flight characteristics and drag reduction. Raisbeck then gave full program go-ahead in 2010.
Following completion of kit production, initial installations will be conducted by West Star Aviation of Grand Junction Colorado, a long-standing Authorized Raisbeck Dealer/Installation Center. First customers are expected to arrive there in late May or early June of this year. Coordinating those efforts will be T. J. Jaeger, head of LearJet/Gulfstream Programs at West Star. Production rate is scheduled to begin at one installation per month, accelerating as supply and demand dictate.
For more information: Raisbeck.com