This year's SUN 'n FUN marked the 10th anniversary of Jason Capra as co-pilot on the Douglas C-54 "Spirit of Freedom," a flying museum dedicated to telling the story of the Berlin Airlift. And he's only 30.
"This is my 15th year as a member of the Spirit of Freedom Foundation," he said.
Capra began his aviation career at the age of 15, washing airplanes and mowing the grass at Washington County Airport in Washington, Pa.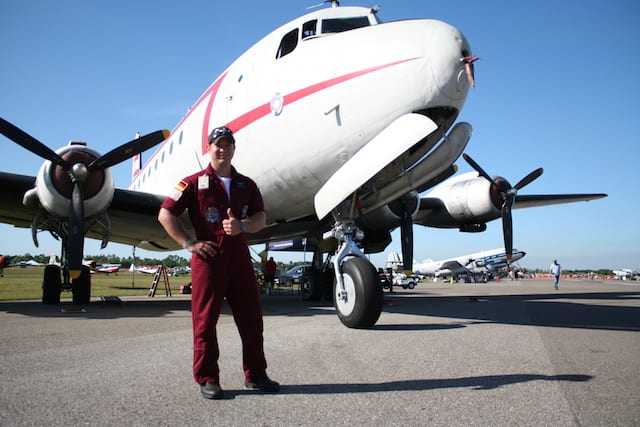 "Anything to be around airplanes," said Capra. "That is when I met Tim Chopp, the president of the foundation. He had purchased the airplane and restored it and in the summers it would be on display at the airport. I told him that I wanted to help on the airplane and he told me that I'd have to be a supporting member of the Spirit of Freedom Foundation to do it, so I cut some more grass and gave him $50 and became a member."
As the years passed Capra earned his pilot certificates and built his hours. We first met him in 2004 on his first air show season as a pilot when he was a charter pilot building time. Today he is a captain at Republic Airlines and flies the Bombardier Q400.
"I have been with them for eight years now. All my spare time is spent with the Douglas here, doing what I need to do to keep her flying and taking her to air shows," he said. "I am very lucky to do what I do. My fellow officers at work think I'm sick. They ask, 'don't you get enough flying at work?' they don't understand," he grinned.
For more information: SpiritOfFreedom.org