By JENNIFER PERRY WOLF
"Up to this point in my pilot experience, flying floats is the most challenging flying I have EVER done! It's also the FUNNEST flying I have ever done." So says Sean Cannon, a pilot for Mission Aviation Fellowship, who is based in Kalimantan, Indonesia.
The area is a study in contrasts, from swampy low-lying areas reaching 40 feet above sea level in the south, to flat spans of tropical rain forests in the middle, and mountain ranges to the north.
It's here along a series of rivers that Cannon spends his days in the seat of a Cessna 185 floatplane — his 6 foot, 3 inch frame fitting neatly into the small plane's cabin.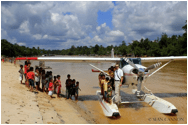 "There's probably three rivers here each the size of the Mississippi. It's heavily river centric, so the floatplane is the perfect fit," said Cannon. "Of course, the farther you work up the river, the smaller the rivers get. And that's where it gets really fun."
Cannon flies for Mission Aviation Fellowship (MAF), a Christian organization that uses its fleet of 132 airplanes to share the Gospel and make life better for those living in the most remote corners of the world. They transport doctors, teachers, evangelists, medical supplies, building materials, and perform emergency medical evacuations. MAF's airplanes are a critical link between jungle villages and the outside world.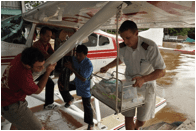 Cannon and two other floatplane pilots are based in the town of Palangkaraya, where MAF has a floating hangar on the Kahayan River. They visit certain locations regularly — daily, weekly or monthly. But if the river is long enough and if there's a dock or a beach, they can land at more than 200 places.
"The sky's the limit," said Cannon. "That's the fun thing about the floatplane — you can take it anywhere."
Operating on water versus land comes with a unique set of challenges. The rivers are constantly changing, and run high or low depending on the amount of rain received.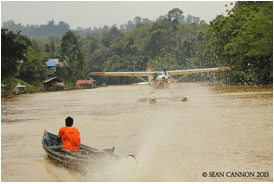 "Your 'airstrip' is constantly moving," Cannon explained. "River current, floating debris, boat traffic, swimmers, floating houses … they all make for an extremely dynamic environment. It takes constant vigilance to know what is happening all around you."
Because the water is often murky and unclear, it can be hard to gather good data on "runway" length, water depth, obstacle locations, and climb out angles, he noted.
With its short waterway and frequent boat traffic, Tumbang Marikoi is the most challenging landing site. Because it's so short, the MAF pilots must use every available foot of river for takeoff. That puts them slightly around a corner, making most of the river invisible from the cockpit. Cannon relies on a helper to stand on the dock and make hand signals. Once the helper puts his hands down, the pilot can "pour on the coals."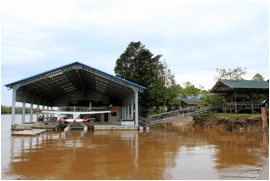 "Seventeen seconds after pushing in the throttle, the airplane is airborne, just missing some big rocks sticking out of the water," said Cannon. "But you can't relax once you are off of the water — you have to start an almost immediate left turn!"
Cannon went from flying wheel planes in Ecuador and Mexico on his first term with MAF to piloting a floatplane in his second term. But whether he's attempting a land or water landing, one thing remains constant: The ability to save lives with the help of MAF's planes.
One flight Cannon says he'll always remember was taking a father, mother and toddler who were seriously burned in a house fire to the city for treatment; their infant child had already perished. It was a tough flight to see such suffering up close. For this flight, and many others, he may not ever learn the final outcome, as the passengers will oftentimes find another way home.
These flights can be stressful. The tropical heat and challenging conditions sap a pilot's energy.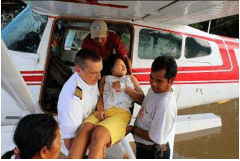 "At the end of a long day of flying, you can definitely tell that your body and brain have been very physically taxed," said Cannon.
But that doesn't change his opinion on flying floats, which he frequently describes as "awesome!"
Cannon says some days he has to pinch himself in disbelief that he gets to fly floatplanes in Kalimantan.
"It's a very small club that can say such a thing, and I'm forever grateful that I have the opportunity to do it."
Cannon expects that someday he may go back to a wheel plane.
"When that day comes, however, I know without a shadow of a doubt that I will sorely miss flying floatplanes," he said. "This will definitely go down as one of the highlights of my flying resume."