Jesse Saint of Dunnellon, Florida, was the winner in Lightspeed Aviation's 2014 SUN 'n FUN Treasure Hunt. Jesse and his family used an iPhone and the posted hint to find one of 25 puzzle pieces hidden in treasure chests across the SUN 'n FUN grounds. The find gave him an automatic entry into the drawing for Lightspeed's top-of-the-line headset.
Jesse, owner of Saint Aviation in Florida, is an A&P/IA and also an EAA Technical Counselor. He has a commercial pilot license with instrument and seaplane ratings. He currently uses a Lightspeed original Zulu, but is looking forward to using the Zulu.2, primarily for the added functionality of the FlightLink in-cockpit recording app.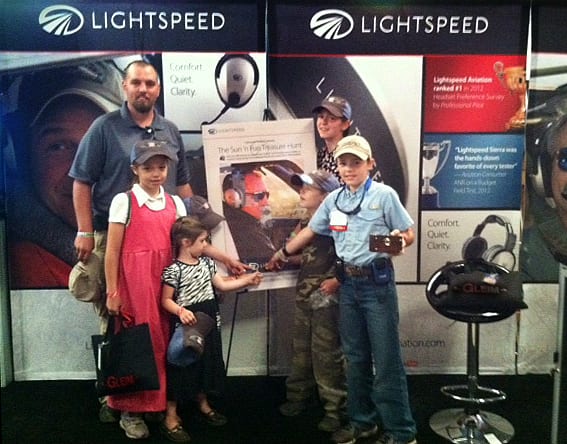 The Treasure Hunt drew a wide variety of treasure seekers, from young children to experienced pilots, who used GPS coordinates and riddle-like hints ("Explore the rent in the lattice of history") posted on the Lightspeed website and in the booth at Sun 'n Fun to pinpoint the locations.
"We did the Treasure Hunt to find a new way to connect with our customers," said Teresa De Mers, Lightspeed's Executive Vice President of Sales, Marketing, and Customer Support. "Meeting the treasure hunters and hearing their stories in our booth was very engaging. "
Based on the response to their trial run at Sun 'n Fun, Lightspeed is looking at bringing the Treasure Hunt to other events in 2014, officials noted.
For more information: LightspeedAviation.com