New to bookshelves this spring is "Lindbergh: The Tale of a Flying Mouse," a suspenseful yet inspiring story of a little mouse who conquered a big challenge.
An avid reader, this mouse learned about and then longed to find the distant land called, America. In order to do so he had to survive mousetraps, cats, owls, humans and best of all gravity.
An aviation enthusiast and professional illustrator, author Torben Kuhlmann's first picture book is set in early 20th Century Germany when people were seeking a better life in the "New World."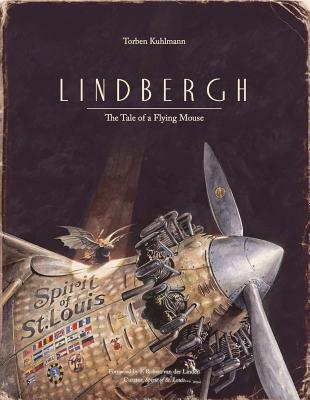 "One of the main goals behind the conception of Lindbergh was the creation of a convincing part of world history. Yet, I presented it through the eyes of a mouse," said Kuhlmann. "Every detail is meant to lure you into Lindbergh's world — with hints to real events and people — and by the end you may think to yourself: "It could have happened this way!""
Since early childhood, Kuhlmann has been fascinated by steam engines, old ocean liners, visionary inventors like Thomas Edison and Leonardo DaVinci, and — most importantly — by the early aviation pioneers. When he was growing up, strange contraptions made out of junk, found objects, and other odds and ends "decorated" the backyard of his parent's German home. Of course, the contraptions couldn't fly or actually function in any way, but his childish imagination took over. Some of this playfulness never vanished and his imagination was later fueled by great books and films. Today the protagonist in Lindbergh seems to have a similar demeanor.
"Lindbergh is a story I wish I read when I was young," adds Kuhlmann. "Picture books at the time did not deliver a real adventurous thrill. So, I designed Lindbergh to evoke a sense of childlike adventure with a serious undertone. There is detail to discover in every picture and something for everyone on each page."
Readers can also enjoy a video trailer featuring Lindbergh: The Tale of a Flying Mouse
http://www.youtube.com/watch?v=tN1F9gUMXnA
Kuhlmann will be doing a U.S. book tour May 24-30th, which includes The Smithsonian Air and Space Museum and the Book Expo New York.
The book is available at Amazon.com, IndieBound.org, as well as other fine booksellers.