SCOTTSDALE, Ariz. — In honor of Autism Awareness Month, Angel MedFlight Worldwide Air Ambulance recently hosted a field trip for the students of Gateway Academy of Scottsdale. The students came to learn about air ambulance services and aviation. The school specializes in children with Asperger's syndrome, high functioning autism and PDD-nos (Pervasive Developmental Disorder-not otherwise specified).
Angel MedFlight also surprised the students by donating 15 iMac computers to their school.
"It was our way of providing these students with an opportunity to learn about the air medical and aviation industry, and give them ideas and tools to help further their education back in the classroom," said Cassandra Graper, Executive Vice President and event organizer.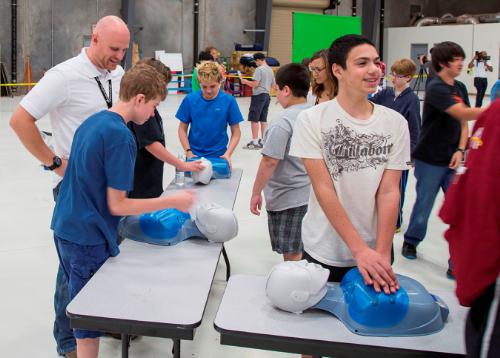 The Angel MedFlight staff transformed its aircraft hangar, located in the Scottsdale Airpark, into an educational treasure trove for the students. The event began with a "Q and A" session with the experts, where the students proved their fascination and curiosity through insightful questions about the jets and their capabilities.
The young learners visited different stations, led by uniformed flight nurses and paramedics, pilots and maintenance specialists who each taught them something unique about their role in air medical transport.
One station featured an inflated survival life raft where the students put on life jackets, climbed aboard and listened to the pilots explain about survival techniques and the jet aircraft they fly. At another station, medical crew members gave students a chance to practice their newfound CPR (cardio pulmonary resuscitation) skills on the same training manikins used in adult classes.
A video of the event is available here
Angel MedFlight Worldwide Air Ambulance provides domestic and international air medical transportation services, commercial medical escorts, ground ambulance services and more.