OSHKOSH – Greg Anderson, who helped pioneer a program responsible for taking 1.8 million-plus youths flying worldwide, was honored with the 2014 Phillips 66 Aviation Leadership Award during AirVenture Oshkosh 2014.
A piston pilot who spent 21 years working for the Experimental Aircraft Association (EAA) and now heads the Wings Over the Rockies Air & Space Museum in Denver, Anderson accepted the Aviation Leadership Award from Greg Hart, manager, general aviation, Phillips 66, during the annual Young Eagles Banquet.
Anderson has dedicated the better part of his adult life working to inspire youths with aviation. He's also flown 621 Young Eagles.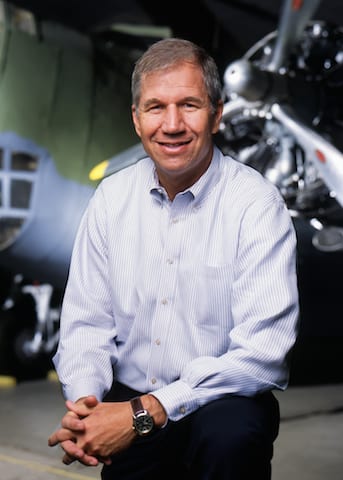 When a survey of EAA members during the late 1980s found their number one concern was the next generation's opportunity to carry on aviation, Anderson had an epiphany. To say it was bodacious at the time wouldn't do it justice.
"We needed to do something bold, we needed to take a leadership position if aviation was to continue in this country as we knew it," Anderson explains. "The industry's prospects had been getting cold for some time. I asked Tom Poberezny (then EAA Chairman) 'What if we were to challenge our members to take 1 million youths flying by 2003?'"
The math was intimidating. EAA members would have to fly 274 kids every day for a decade.
But Poberezny bit. The EAA introduced Young Eagles in 1992, and an enthusiastic group of pilot volunteers met Anderson's incredible goal within 10 years. Kids from 90 countries have since experienced the thrill of flight. Many have gone on to aviation careers.
"Young Eagles' success is really about the people who jumped on this program and made it run," says Anderson. "It's really about the guys out there in little airports and big airports around country who volunteer their time, aircraft and fuel."
It was that sacrifice that led Anderson to hatch another idea, this one with former Phillips Petroleum Company Chairman and CEO Jim Mulva, himself a pilot, at his company's headquarters in Bartlesville, Oklahoma.
"That's how the Young Eagles' relationship with Phillips 66 got started," explains Anderson. "We'd gotten Cliff Robertson as honorary chairman, announced the program in Washington, D.C., then flew our first kids at Oshkosh in 1992. Mulva saw the value and impact right away. We fashioned the fuel rebate support program to help pilots offset some costs, something I think has been an instrumental part of the program's success. I have a lot of warmth in my heart for Phillips 66; it's a great company."
Now in its 21st year, the Phillips 66 Aviation Young Eagles Fuel Rebate program has helped thousands of pilots take hundreds of thousands of youths flying.
Anderson still flies Young Eagles in his Piper PA-12 Super Cruiser, buying fuel with his Phillips 66 Aviation credit card, for EAA Rocky Mountain Chapter 301 at Centennial Airport and Mile High EAA Chapter 43 in Denver.
But these days, Anderson is razor-focused on another big mission to inspire people with aviation and space endeavors, past, present and future. Since 2004, Anderson has been CEO for the Wings Over the Rockies Air & Space Museum, with a popular facility in Denver housed in a historic hangar, and a new museum planned for Centennial Airport.
"One thing we are trying to do is load the pipeline with kids that are enthusiastic about flying and being engineers and maintenance techs and maybe an astronaut one day," he explains.
The museum's programs run deep. Its teacher flight program – with Honorary Chair Eileen Collins, the first woman to pilot and then command a Space Shuttle –is designed to have a multiplier effect. The idea: turn STEM (science, technology, engineering, math) teachers into aviation ambassadors.
"We're committed to fly a STEM teacher in every one of the 1,600 schools along the Front Range in Colorado," exclaims Anderson. "We're giving them an experience they'll remember the rest of their lives, with resources to take back to the kids."
Already, the museum has flown 216 teachers. Do the math, explains Anderson, and over the years you can reach 450 kids per teacher. "Think how many we can reach by 2020," he says.
Holding nothing back, Anderson and the museum have raised $9 million in a capital campaign to build an Exploration of Flight facility at Centennial Airport. It will be an experience-based learning center like none other, says Anderson, "a launch pad for learning that will inspire the explorers, discoverers, and achievers of tomorrow."
"I'm honored beyond measure to receive the Phillips 66 Aviation Leadership Award from such an illustrious organization with a genuine aviation leadership," Anderson says. "I think with programs like Young Eagles and some of these other ideas we're pursuing all is not lost, and I'm optimistic that we can recover and build on our country's aviation tradition."