The Evergreen Aviation and Space Museum in McMinnville, Ore., is not closing. That's the message from officials at the not-for-profit museum in the wake of the bankruptcy filing of Evergreen Vintage Aircraft, a separate for-profit company that owns several vintage aircraft that are on display at the museum, but are not museum property.
On Friday, Dec. 12, Evergreen Vintage Aircraft filed for Chapter 11 bankruptcy in U.S. Bankruptcy Court in Portland, Ore. The company listed more than $50 million in assets and more than $100 million in liabilities. Chapter 11 allows the company to reorganize debts and pay creditors in accordance with a court-approved plan.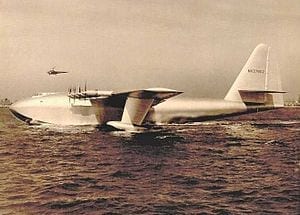 The announcement of the bankruptcy filing went viral, unleashing a torrent of concern in the aviation community. Many assumed the announcement meant the useum, which is home to the Hughes HK-1, also know as the Spruce Goose, is closing. This is not the case, say museum officials who released this statement Dec. 15:
"We are aware that Evergreen Vintage Aircraft, LLC has filed for reorganization under Chapter 11 of the bankruptcy law. That company is a separate for-profit company. The Evergreen Aviation and Space Museum is an independent non-profit organization.
"Most of our museum's collection of over 180 aircraft and artifacts are owned by the museum or are on loan from federal government agencies. Our museum does have 25 aircraft and vehicles on loan from Evergreen Vintage Aircraft. These remain on loan. We are continuing to lease the Theater building, which is owned by Evergreen Vintage Aircraft. Our museum continues to operate as before. We have no other comment to make at this time."
The museum, located southwest of Portland, was built in the late 1990s around the behemoth "Spruce Goose."
Last year Evergreen Aviation, the museum's parent company, filed for bankruptcy in Delaware. Rumors of the museum's precarious financial state began circulating at that time.
It was noted that several of the museum's exhibit aircraft owned by Evergreen Vintage Aircraft, including a P-38 Lightning and Corsair were listed with Courtesy Aircraft, an aircraft broker that specializes in vintage warbirds. Last summer when newspaper accounts of the museum's financial challenges surfaced, museum officials stated that the  "Spruce Goose" was "safe" from sale.
The museum includes an educational water park in addition to the aircraft display area.