DULUTH, Minn. — Cirrus Aircraft reports the maiden flight of the third and final conforming flight test aircraft, C-Two (C2), in its Vision SF50 personal jet program.
The initial flight of C2 marks the latest milestone for the Vision jet program as C2 now joins C0 and C1 in FAA flight testing and certification activities.
C2's first flight took place Dec. 20 at Duluth International Airport (KDLH). Upon completion of the scheduled 20-minute flight, Director of Engineering Flight Test Mike Stevens reported, "Though this first flight was planned to be brief, C2 flew as predicted and initial handling qualities were confirmed."
He noted that the program moves into 2015 "on schedule."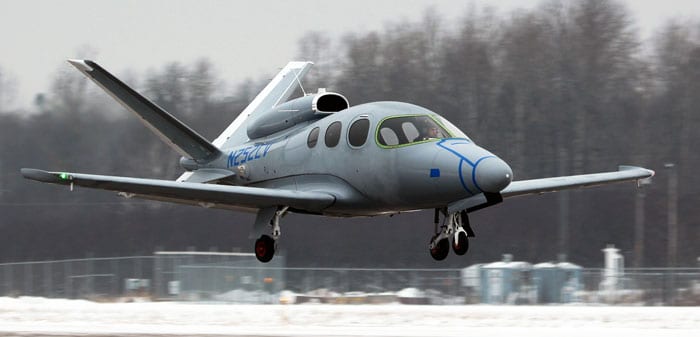 "Today's flight marks another milestone for Cirrus Aircraft and for General Aviation," said Dale Klapmeier, CEO and Co-founder, Cirrus Aircraft. "What a perfect holiday gift for Cirrus Aircraft employees, owners, operators and partners around the world. Three Vision jets flying is a fleet!"
Progress has accelerated further for the Vision SF50 personal jet flight test program in recent months, company officials noted.
Since its first flight on March 24, 2014, C0 has performed a wide range of aerodynamic performance and handling tests and will continue to expand its flight test regime in the near future, including in-flight parachute testing.
C1 first flew on Nov. 25 with its primary focus on Flight Into Known Icing (FIKI) certification.
C2 now enters the program with the goals of performing reliability and optional equipment testing, as well as serving as a catalyst for flight standards and training evaluations.
All three aircraft combined have logged more than 250 flight hours over 177 flights.
The next aircraft set to join the Vision SF50 jet program will be the first production aircraft, known as P-One (P1). P1 is scheduled to roll off the production line in the second half of 2015.
The Vision SF50 features a cruise speed of 300 KTAS, the Cirrus Airframe Parachute System (CAPS) and an all-carbon fiber structure. Order book tops 500 for the jet, currently priced at $1.96 million, Cirrus officials said. First customer deliveries are currently planned for the fourth quarter of 2015.