A new book, "Crop Duster: A Novel of World War II" which fuses fact with fiction to depict the fellowship of pilots, has been released.
Written by John D. Beatty, the book is the story of two pilots caught up in war — one in the U.S. and one in Germany.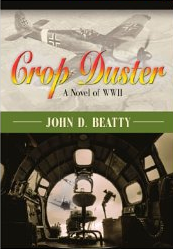 "From the ashes of the Great War of 1914-1918 arose a brotherhood of the air made of intrepid flyers in delicate machines who braved the odds and the skies," the publisher says in the synopsis. "Between Germany and America there came two different ideas of air power, and what it might mean to fight and win wars from the air, and how peace might be preserved.
"From these ideas arose the new breed of air warriors: Flyers of bombers that devastated cities, and flyers of fighters that tried to stop them. Still the odds and the laws of physics were against both. But still there was the brotherhood of the air, the kinship between flyers that united them against outsiders."
"When a war's curtains close many are dead, entire cities are reduced to ash and a country's identity is often shaken for generations to come. However, humanity often lives through the fire to emerge victorious. The fact that this happens at all is miraculous," explains Beatty. "This book captures that one constant, told through the eyes of the brave men who were war's real victims."
"The action flips between American and German viewpoints, in an attempt to show how one war and even one day's battles are viewed from both the good guys and the enemy – whichever way around those titles are stamped. Readers will enter pilots' minds to experience their intimate thoughts, motivations and dreams. Often, the dream was simply to land in one piece."
"Crop Duster" is available on Amazon.com.