SocialFlight, an aviation web and mobile app for finding events and interesting places to fly, has introduced SocialFlight University, which offers free educational videos, webinars and reference materials.
SocialFlight University includes a collection of videos, webinars and reference materials on a variety of educational topics from pilot training, safety and technique, to aircraft ownership, operations and maintenance. It also includes materials on aircraft, avionics and pilot products, as well as clubs and community-related topics. The entire collection is available for viewing on most phones and tablets, as well as on the web.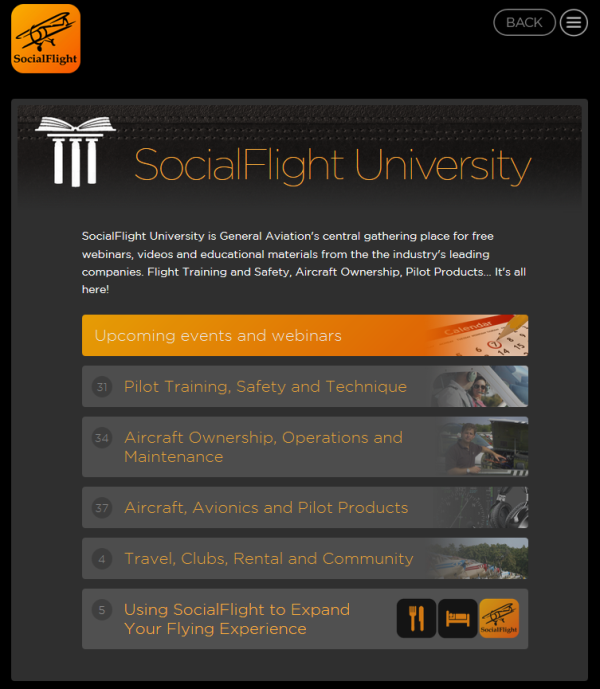 SocialFlight University is part of the SocialFlight app, and is a free resource for the general aviation community through the support of aviation industry leaders including Jeppesen, Champion Aerospace, Continental Motors, Aspen Avionics, FreeFlight Systems, Piper Aircraft, Sennheiser, Avidyne, Lightspeed Aviation and ASL CamGuard.
For example, Jeppesen provided educational videos on proper aviation chart usage.
"Safety and education are at the core of everything we do at Jeppesen." said Reggie Arsenault, Jeppesen Director of Aviation Client Management. "SocialFlight now combines the recreational aspect of flying with the education required to do it safely. Jeppesen is proud to support SocialFlight University as the centralized, mobile library of free educational materials for all pilots."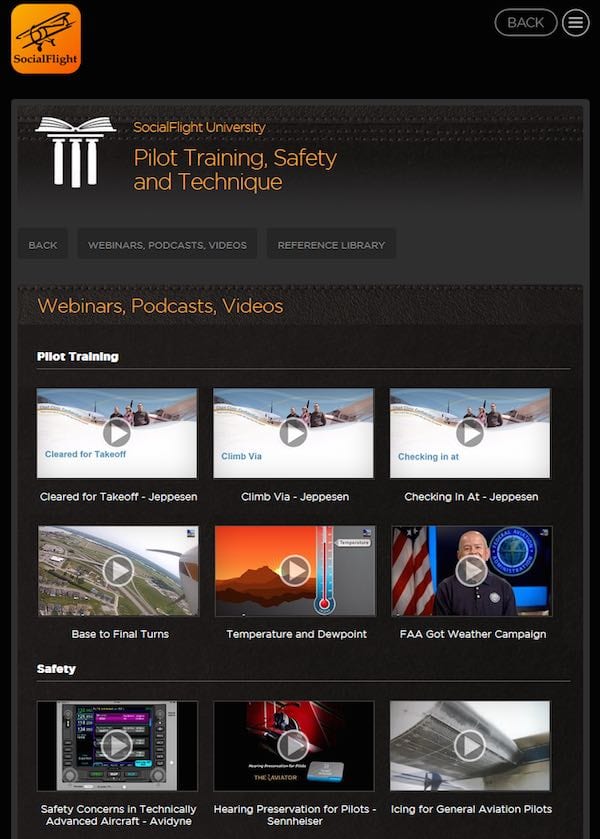 SocialFlight is used by tens of thousands of pilots to help them find fly-ins, airshows, pancake breakfasts, conventions, FAA safety seminars and much more. More than 20,000 events have been catalogued to date, according to officials.
It also includes over 300,000 points of interest (POI), such as restaurants, attractions, lodging and more; all within walking distance of airports.
"The SocialFlight community has grown to the point where our features are driven by the needs of the general aviation community," said Jeff Simon, president of SocialFlight. "Our live webinars have been extremely popular and the need for 'on-demand' access to this great content was the impetus for the creation of SocialFlight University. With well over 100 videos and webinars, there's truly something for everyone."
Upcoming live webinars include ADS-B training from FreeFlight Systems and avionics training Avidyne.
Some of the recorded webinars will qualify for continuing education credits, such as the FAA's Wings Program, from the companies delivering the content.
As the app and content continues to grow, an increasing emphasis will be placed on how pilots and mechanics alike can use SocialFlight University as a resource for their continuing education needs, Simon noted.
SocialFlight University is included in the 4.2 release of the free SocialFlight mobile app for Apple and Android devices, as well as on the web. SocialFlight 4.2 also includes a variety of other improvements and new features, including the ability to use the app in Landscape mode on tablets. SocialFlight is a free App available on the iTunes App Store for iPhone and iPad. It is also available on the Google Play Store for Android Phones and Tablets, as well as on the web at SocialFlight.com.