WASHINGTON, D.C. — As the general aviation industry girds itself for the upcoming reauthorization of the FAA, eight alphabet groups joined forces to commission a study to show exactly what GA contributes to the U.S. economy.
Using data from 2013, the study, released Feb. 11, shows that GA supports 1.1 million jobs in the U.S., while contributing $219 billion in total economic output.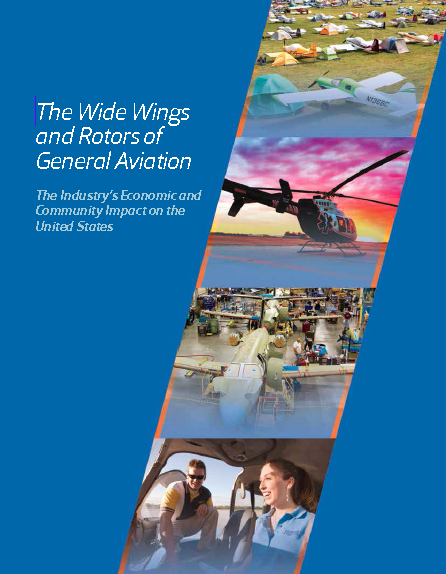 Conducted by PricewaterhouseCoopers, the study shows that GA has not only recovered from the economic recession, but surpassed the numbers compiled in a similar study in 2004, which showed an economic impact of $150 billion.
To give "color and context" to the numbers, the GA advocacy groups also put together a narrative report, "The Wide Wings and Rotors of General Aviation," that tells some of the stories behind the industry's impact, both on the economy and communities throughout the nation.
"These stories tell what the airports do for their communities or how our charitable organizations give back to the communities," said Pete Bunce, president of the General Aviation Manufacturers Association (GAMA).
The economic impact study, along with the report, will be "useful for us as we go up on the Hill for reauthorization," he said.
Every few years, Congress is required to pass legislation that not only authorizes funding for the FAA, but also sets the agency's priorities. The last reauthorization, which was a long-drawn-out battle that began in 2007 and included an unprecedented 23 short-term extensions, was finally passed in 2012. It expires Sept. 30, 2015.
No one expects a similar battle for this year's reauthorization.
"We were in a different place back then," Bunce said.
One difference, he noted, is that "we don't have to fight the user fee issue." For the first time in many years, President Obama did not include user fees for general aviation in his budget proposal (see separate story here).
And while there will be some "contentious" issues, especially with airports and the airlines, Bunce noted that Congressional leaders have shown a commitment to general aviation as they begin debating the upcoming reauthorization.
"I'm very hopeful," he said. "But with Congress anything could happen — but this is not an election year, so that's good for us."
The new report will be "highly valuable in our ongoing work to educate policymakers and opinion leaders about the size and significance of general aviation in America today," noted Ed Bolen, president of the National Business Aviation Association.
"This study highlights a very important reality, and one that is often overlooked: General aviation plays a central role in our nation's economy and transportation system, and provides an essential service to citizens, companies, and communities across America," he added.
NBAA joined with GAMA and the Aircraft Electronics Association (AEA), Aircraft Owners and Pilots Association (AOPA), Experimental Aircraft Association (EAA), Helicopter Association International (HAI), National Association of State Aviation Officials (NASAO), and the National Air Transportation Association (NATA) in commissioning and paying for the study.
The study and narrative report are available on GAMA's website at GAMA.aero.