PORT MANSFIELD, Texas – Texas A&M University Corpus Christi's Lone Star Unmanned Aircraft Systems research center (LSUASC) conducted flight operations in early March to test a ground-based sense-and-avoid radar system designed to identify small remotely piloted aircraft (RPA) in a specific airspace.
Bob Alger, Director of Business Development for SRC, Inc., said the equipment could be used, for example, at a package delivery hub, where many RPA, sometimes also called unmanned aerial systems (UAS) or drones, are entering the same area.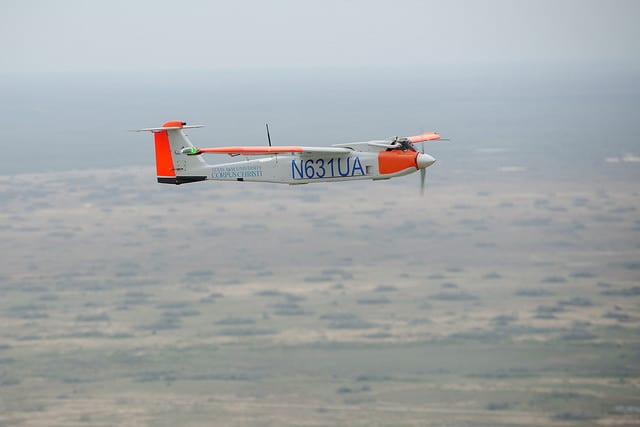 "SRC looks forward to supporting LSUASC test ranges with state-of-the-art sense-and-avoid technology. Our ground sensors and algorithms provide the foundation for research and development needed to allow safe integration of UAS into the national airspace system," Alger said. "SRC's expertise is in leveraging our radar technology and software algorithm advancements for the detection and tracking of small and slow UAS."
SRC, based in Syracuse, N.Y., came to South Texas to demonstrate the capabilities of the technology, described as the sense part of a sense-and-avoid system, one of the critical building blocks for safe RPA operations, according to university officials.
The ground based sense-and-avoid radar provided the ability to determine whether non-test aircraft or birds had entered the area of test operation. The exercise included working closely with area stakeholders, including aircraft operating in and around the airport, the Navy, the Coast Guard, the Customs and Border Protection Agency and LSUASC personnel working closely with FAA Air Traffic Control operators.
The Lone Star UAS Center flights occurred with the university's RS-16 RPA. Operations were based at the Charles R. Johnson Airport in Port Mansfield, operated by the Willacy County Navigation District.
[youtube http://www.youtube.com/watch?v=nc6BqRm9QoU&w=560&h=315]
The missions took place at altitudes up to 3,000 feet and over a distance of 18 miles.
The RS-16 is the university's largest RPA, with a wingspan of nearly 13 feet and a maximum weight of 85 pounds. It launches with a pneumatic catapult and lands on its belly.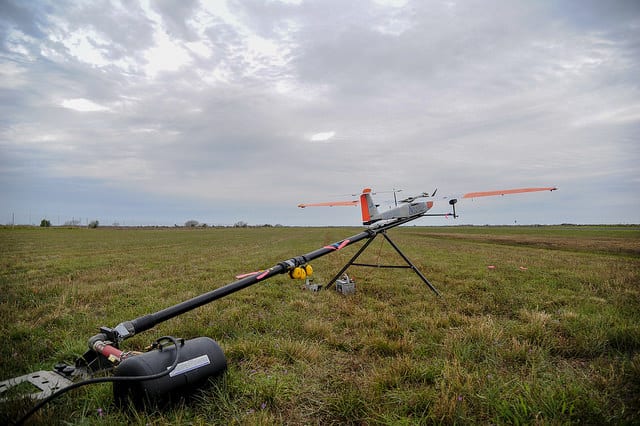 Sense-and-avoid technology is critical for UAS flying out of sight of operators who program and control the aircraft from locations on the ground. Current federal regulations are evolving for beyond-sight operations and the LSUASC is prepared to assist the FAA in clearly defining the safe rules, regulations and procedures for that type of operation, university officials noted.
One of the goals of the recent missions was to test the effectiveness of a helicopter as a chase vehicle. Previous test flights used a small piloted plane that overheated while tracking the much slower RS-16.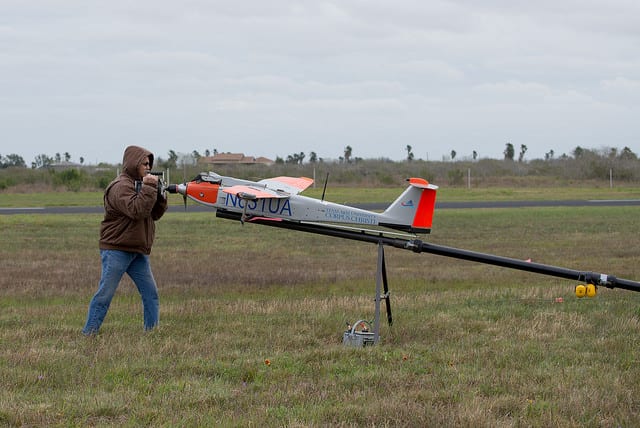 The mission also collected 3-D imagery of the Laguna Madre shoreline and the Gulf of Mexico for researchers at Texas A&M-Corpus Christi. The RS-16 aircraft traveled several miles out over the Gulf of Mexico and several miles along the Intracoastal Waterway.