This spring, National Geographic Studios presents "Living in the Age of Airplanes," which promises to carry audiences across 200,000 years of history and around the globe on a journey to 95 locations in 18 countries spanning seven continents to remind us how, in a single century, aviation has changed our world forever. The world premiere of the movie will take place at the Smithsonian's National Air and Space Museum in Washington, D.C., on April 8.
Narrated by actor and pilot Harrison Ford, Living in the Age of Airplanes will premiere in IMAX, giant screen, 15/70mm dome screens and digital cinemas nationwide beginning April 10.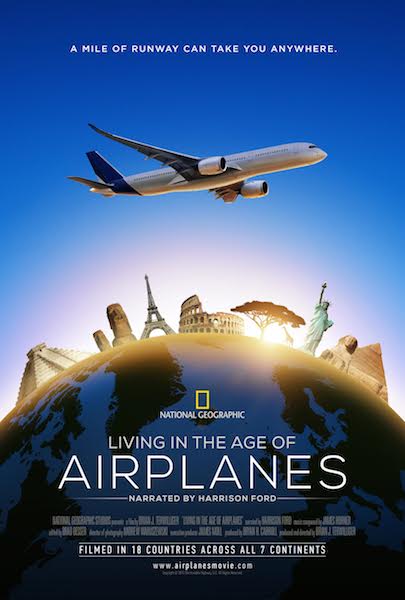 Produced and directed by Brian J. Terwilliger, the force behind the popular documentary ""One Six Right"" about Van Nuys Airport, Living in the Age of Airplanes features an original score by Academy Award-winning composer and pilot James Horner ("Avatar," "Titanic") and cinematography by Andrew Waruszewski.
The film highlights the astonishingly rapid advancements that have led to a world in which 100,000 flights takeoff and land every day.
"Since we were all born into a world with airplanes, it's hard to imagine that jet travel itself is only 60 years old, just a tick on the timeline of human history," said Terwilliger.
"With this film, we want to reignite people's' wonder for one of the most extraordinary aspects of the modern world," he said.
Living in the Age of Airplanes will open nationwide in close to 20 locations including Washington, Boston, New York and Dallas. For a full list of theaters or to view the trailer, visit AirplanesMovie.com.