WICHITA, Kansas — Exactly 70 years after it was delivered to the U.S. Army Air Forces in Wichita, Kansas, the B-29 "Doc" was delivered again.
On March 23, 1945, the B-29, one of 1,644 manufactured in Wichita during World War II, rolled off the assembly line at Boeing and was delivered to the Army Air Forces. On March 23 this year, that same aircraft was rolled out again, in commemoration of its restoration and progress back toward flying condition.
More than 200 supporters — known as Doc's Friends — came to watch it roll out again in the city of its birth.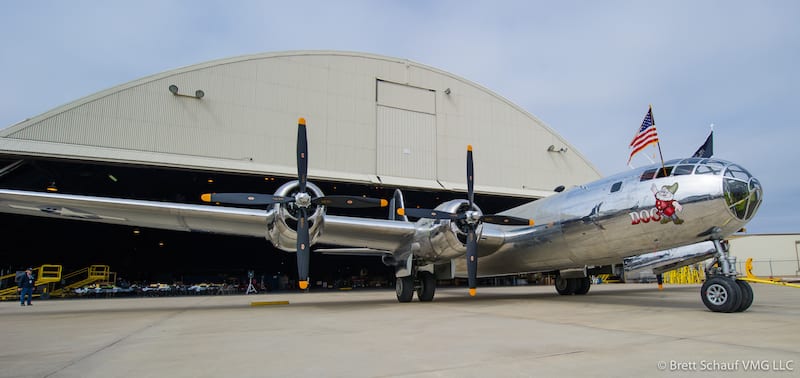 "Many of us, especially our dedicated volunteers, have waited a very long time to see this day because it means Doc is that much closer to being ready to fly again," said Jeff Turner, chairman, Doc's Friends. "Doesn't the aircraft look great? Can you imagine how much better Doc will look when it's back in the air?"
On track to fly later this year, Doc will be one of only two restored B-29s in flying condition.
Part of a squadron of eight World War II era B-29s named for Snow White and the Seven Dwarfs, "Doc" was eventually decommissioned in 1956, and parked in the California Mojave desert where it served as a ballistic target on a China Lake Naval Air Warfare Center Weapons range.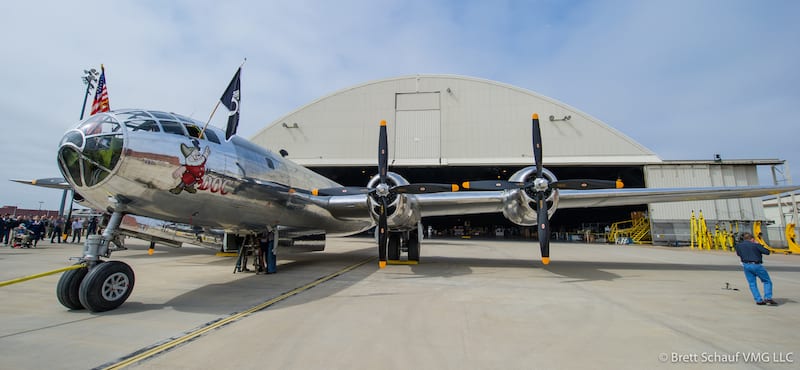 That's where aviation enthusiast Tony Mazzolini found it in 1987. Restoration began in California and resumed when the plane returned to Wichita in 2000.
Along with other historians, Tony knew Doc needed to be rescued.
"Even back then, there weren't many of these beauties left," he said. "Saving it from that situation in the desert was one thing, but the dream was always to restore Doc to flying condition and turn it into a flying museum to help keep the memories alive. That's why we brought it to back to Wichita, where it was first built and delivered."
Over the past 15 years, hundreds of volunteers have worked on Doc. Skilled workers and retirees from Boeing and Spirit AeroSystems, veterans, active duty military and others wanting to honor those who served, have spent tens of thousands of hours on Doc's restoration. Countless individuals and organizations also made financial and in-kind contributions to keep the project going, according to officials with Doc's Friends.
When the restoration hit a snag due to a poor economy and no available hangar space, a group of local Wichita business leaders and aviation enthusiasts formed a nonprofit organization, Doc's Friends. Doc's Friends restarted the restoration, and Boeing donated a hangar. The aircraft is now close to being flight-worthy.
"It's good to see the progress because we are running out of time to get this done for the volunteers, many of whom have been with the project since the beginning, and are in their 80s," said Turner.
The Doc's Friends project is divided into three phases:
Complete the restoration and get Doc flying.
Secure a permanent home for the aircraft.
Operate it as a flying museum.
Doc's Friends estimates it will take $7 million to $9 million to finish the restoration, get the aircraft flying, and secure permanent hangar space. The organization has committed to keeping the aircraft in Wichita.