The Aircraft Owners and Pilots Association (AOPA) has teamed up with Pilatus Aircraft to offer the use of a Pilatus PC-12 NG turboprop for eight hours of business missions.
The "AOPA Pilot BizAv & You" contest runs through June 30, and is open to people who own or work for a company that would benefit from the use of a PC-12 NG.
Entrants need to submit a 300-word or fewer description of how their company would take advantage of a turbine aircraft if they had access to it.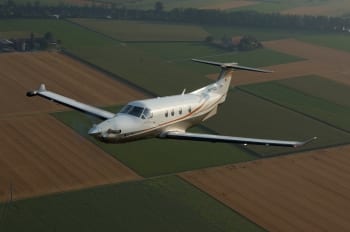 Pilatus Aircraft will supply a PC-12 NG for up to eight hours of mission flying on up to four consecutive days — all within the contiguous U.S. Two Pilatus corporate pilots will be on the trip. However, if you're a pilot and the Pilatus pilots approve, you will get a chance to fly some of the legs.
You may bring along up to three others and AOPA will bring along a writer and a photographer/videographer. The PC-12 NG seats up to 11.
Entries will be judged by the editorial staff at AOPA. Special consideration will be given to those who outline missions that take advantage of the PC-12 NG's capabilities of operating off of a variety of runway surfaces and into and out of remote areas with unusual gear that is easily accommodated by the PC-12's cargo door.
The winner will be responsible for getting to the starting point of the mission and returning to his or her home base afterward, although the mission can be a round robin trip. AOPA will provide food and accommodations for the winners during the trip.
(If all of the eight flight hours are used, the prize has a taxable value of about $13,000. AOPA will throw in $4,000 in cash to help cover the taxes, raising the taxable value to $17,000. But the winner is responsible for paying any applicable taxes).