At this week's SUN 'n FUN, Electroair reported it has received design approval and an FAA-PMA for its EIS-41000 series electronic ignition system for the Lycoming IO-AEIO-390 series of engines.
Electroair also added a large number of airframes to its list of approved airframes for the electronic ignition system.
"This expansion just about rounds out the four-cylinder STC and makes it one of the most comprehensive list of aircraft and engines approved for an engine accessory," noted Michael Kobylik, president.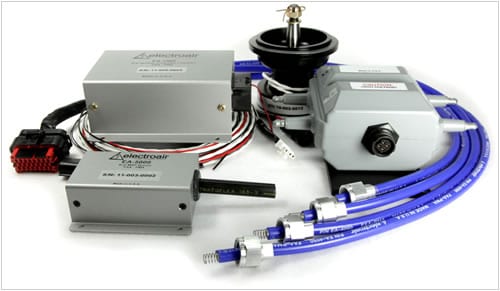 The updated Approved Model List (AML) can be found on the Electroair website.
Kobylik also noted that STC approval of the company's electronic ignition system has been earned for all normally aspirated Continental Engines (360, 470, 520 and 550 Series engines), as well as all Turbo-Charged Continental Engines (360, 470, 520 and 550 Series engines).
He reported that approvals for the turbocharged Lycoming six-cylinder engines should be received by fall.
"That's the last piece of the puzzle," he said, noting they are using a Piper Malibu as the test airplane for these approvals.
Next for the company are STCs for helicopters, both four and six cylinder, starting with the Robinson R-22 and R-44, he said. They hope to have those STCs in hand by the end of the year.
The company also has begun the process to earn EASA certification of its ignition systems, he added.
Kobylik also reported that the Civil Air Patrol is going to begin using Electroair's electronic ignition systems as the organization begins refurbishing its fleet of more than 550 airplanes.
"This is a notable accomplishment to be recognized by CAP," Kobylik said during SUN 'n FUN.