The May/June 2015 issue of FAA Safety Briefing is now online. The issue highlights aircraft performance. Articles focus on understanding the operating parameters of your aircraft, as well as having realistic performance expectations during flight.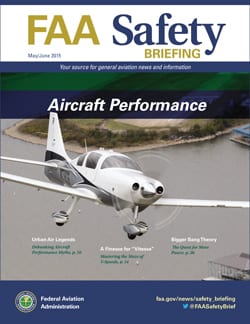 Feature articles in the issue include:
"Urban Air Legends – Debunking Aircraft Performance Myths" (p 10),
 "A Finesse for Vitesse – Mastering the Maze of V-speeds" (p 14),
"Bigger Bang Theory – The Quest for More Power" (p. 26)
In this issue's Aeromedical Advisory department (p. 5), Federal Air Surgeon Dr. James Fraser explains the importance of new sleep apnea guidance for AMEs, while Checklist (p 20) highlights a few common terminology misconceptions when it comes to airman certificates, ratings and endorsements.