By ELIZABETH WALKER
The inscribed bricks at the walkway entrance to the Central Florida Aerospace Academy on the SUN 'n FUN campus on Lakeland Linder Regional Airport (KLAL) in Florida mark a significant date for a small group of students at the school. Each of the red bricks commemorates a student's first solo.
So far, 28 bricks have been laid and the numbers will climb steadily with each yearly dedication.
Mike Zidziunas, director of the Lakeland Aero Club, said the brick project began as an extension of an idea by CFAA benefactor James Ray to commemorate a student's first solo.
"Mr. Ray knew that the solo marks a change in a student's life," Zidziunas said. "The solo bricks will be added in a ceremony each November. An additional 27 solo bricks are already scheduled for the 2015 ceremony and that number will certainly grow."
Zidziunas, a veteran flight instructor who has taught many CFAA students to fly in the past few years, added, "To date, we have had 55 students who have soloed and many more are in the program."
At this time, 49 additional students are working toward their solos, he said.
The students are part of the aviation scholarship program at CFAA. Scholarships are in two parts — a student who qualifies with good grades and meets other requirements, including a written submission and a personal interview, receives a $5,000 scholarship that pays flight training through the first solo.
"Students have six months to solo under the scholarship," Zidziunas said. "If they want to continue and earn their private pilot's license, they apply for an additional scholarship of approximately $6,750. They have to meet the criteria and go before a scholarship board that meets quarterly."
To date, 104 scholarships have been granted and 35 students are under consideration for scholarships.
The application process is a continuing one with student interest remaining high, Zidziunas said.
"Twenty-eight of our scholarship students have gotten their private pilot certificates, including six who also earned their commercial certificate," he said. "And three are now flight instructors."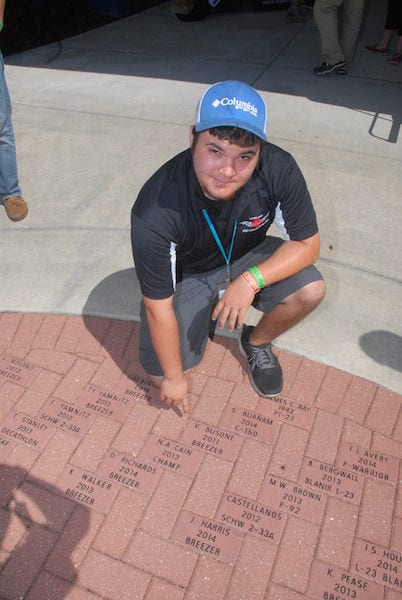 CFAA graduate and current Polk State student Dane Busone said seeing his name on the solo brick gave him a lot of satisfaction.
"I know it will always be there," said Busone, who got his private pilot's license last year and is currently working on his instrument rating. He hopes to fly for a private firm and is also studying airport management.
CFAA senior Cole Harris also earned his private pilot's license in 2014, and said it was a rewarding experience to see the solo bricks in front of the school. His sentiments were echoed by CFAA junior Skyler Burnam, who has his private pilot's license and is working on an instrument rating.
"The brick is something I'll always remember and perhaps seeing the bricks will be an inspiration to others to also solo," Burnam said.
Senior Liam Clancy said the brick was a reminder that he did a demo flight with Zidziunas as a 12-year-old and that was his start.
Sophomore Michael Jenkins, who soloed only a week before SUN 'n FUN, said, "I'm looking forward to seeing my solo brick dedicated next November."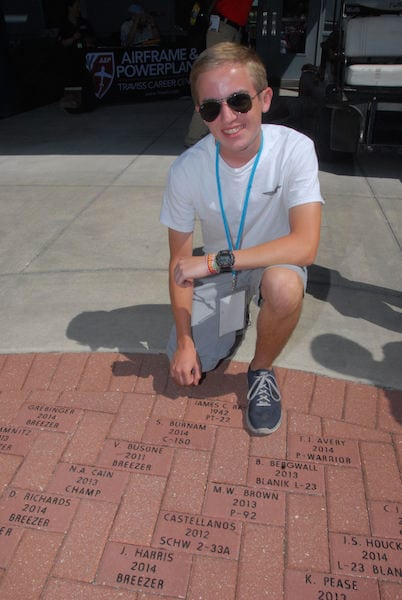 "All this is not just about flight training," Zidziunas said "Not everyone is going to go on after solo and get a pilot's license. But the skills that the students develop in learning to solo will carry them in life. They will have that confidence to do things. And some of them, like some of the students that already have their licenses, will breathe and dream flying."
Zidziunas said there may be an additional category as part of fulfilling James Ray's dream of celebrating the solo as a major step in life.
"We have a glider and we want to start glider operations," Zidziunas said. "We will start attracting the 14- and 15-year-olds and they'll be able to solo a glider."