ASA's fourth edition of the Aviation Mechanic Practical Test Standards (ASA-8081-AMT4) includes the General (8081-26A), Airframe (8081-27A), and Powerplant (8081-28A), along with the new Change 1, effective September 2015.
This booklet provides information for aviation mechanics to prepare for the Oral & Practical exams, the last step in the quest for the Aviation Maintenance Technician (AMT) certificate.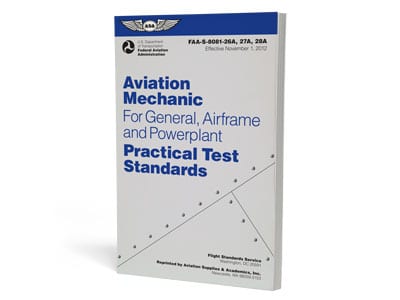 Written by the FAA, the Aviation Mechanic Practical Test Standards details the type and levels of skill and knowledge that must be demonstrated before an examiner can issue a certificate or rating to an applicant.
Students planning to complete their practical exams prior to September 2015 can use the previous edition of this guide (ASA-8081-AMT-3). Students who will be taking their practical exams after Sept. 1 will want to pick up this latest edition (ASA-8081-AMT-4) to prepare for their exams, ASA officials say.
Price: $9.95.